A slideshow, some ice climbing in Lake City, and and our first peak ski attempt of the season.

Looks in to us. A climber ascends the ice near the Upper Bridge. "The park is 100% open!" reads the sign at the Upper Bridge of the Ouray Ice Park. It was an interesting announcement because by January I figured it's always completely open, but just a couple of weeks earlier things weren't so certain. (more…)
We love the Ouray Ice Park. Once a season, in an effort to change things up, we make a trip down to the San Juans, to the town of Ouray, Colorado and its one-of-a-kind playground for big kids. This trip was a reunion of sorts, Christy and I were meeting Adrian, Lissa, Joe and Larry from our Ama Dablam trip. Saturday we spent playing around in the South Park area,...
Recent Posts
About Christy & Ted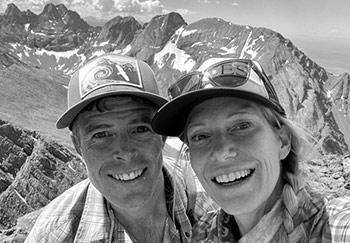 We met in Aspen in 2000 and have been happily
stuck in the rockies
ever since, getting out in the mountains every day we can, in every season and by all means possible.
Read More
Categories
Search