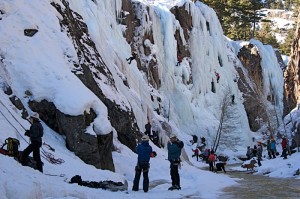 We love the Ouray Ice Park.
Once a season, in an effort to change things up, we make a trip down to the San Juans, to the town of Ouray, Colorado and its one-of-a-kind playground for big kids. This trip was a reunion of sorts, Christy and I were meeting Adrian, Lissa, Joe and Larry from our Ama Dablam trip.
Saturday we spent playing around in the South Park area, where it was busy, to say the least (click photo to enlarge). Because the park is free, and ice climbing is increasing in popularity, weekends can be crowded. Add a little nice weather and so-so skiing at the ski resorts and the numbers increase further, so much so that the casual-starting climber can find himself without any ice to play on if too much time is spent at the coffee shop.  Aware of this, Adrian and I took our coffee to go and headed in at 7:30, to nab a few routes adjacent to each other so we could all hang out in the same place.
And on Sunday, after a day of reacquainting ourselves with everything, we managed to claim two of the longer lines in the park, near the Upper Bridge area. It's really cool there. The routes are long, steep and tiring, especially if it's your first climbing of the season.  After you lower down, even though you are tied in, you feel pretty alone. And when the pump sets in, be sure not to drop your new leashless ice tools or they may end up in the river!
After two days in the park and two nights at the Beaumont Hotel, which we recommend highly as a place to stay, we were ready to head back home and settle into the second half of ski season.