We skied Stewart Peak, 13,983 ft. yesterday, our 99th Centennial ski descent. Only one more peak remains, Jagged Mountain.

Moving east from Half Peak we went to Creede and Phoenix Peak 13,895 ft. Though it may not seem like an exciting mountain when viewed from the small town it stands over, we skied a fun, steep line on the it's east side which impressed us all.

The Yawner Gullies from San Luis Pass. Route: Yawner Gullies (SW) Team: Ted, Sean Shean After the shakeup on Wetterhorn, Sean insisted he was alright with an attempt at San Luis Peak the next morning. The mellow peak would make for a good day. We camped at the Equity Mine Trailhead, at the snow closure. Respecting Sean's request to not repeat yesterdays predictable avalanche situation, we left early. The ski...
Recent Posts
About Christy & Ted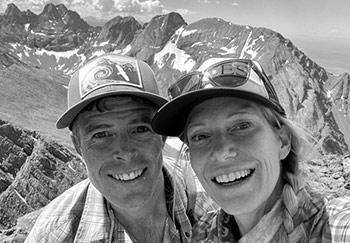 We met in Aspen in 2000 and have been happily
stuck in the rockies
ever since, getting out in the mountains every day we can, in every season and by all means possible.
Read More
Categories
Search