So what's this all about?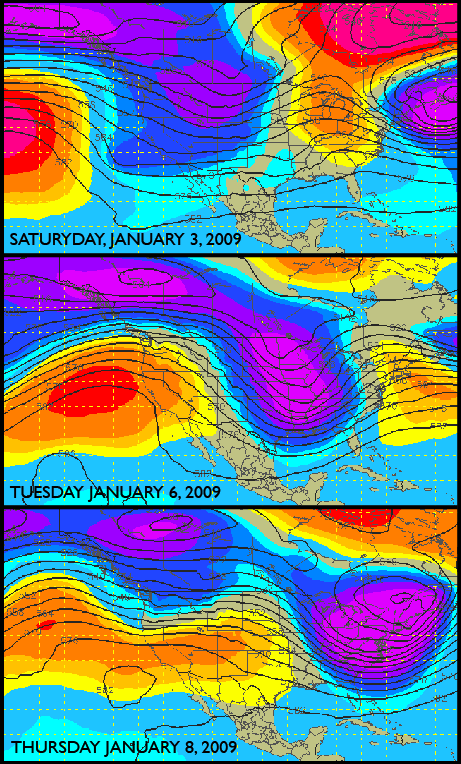 Joel Gratz, an enthusiastic skier and amateur meteorologist out of Boulder, Colorado, has launched his Colorado Powder Forecast, with the singular goal of helping  powder lovers stay abreast of  incoming weather news of the 'cold smoke' variety.
Distributed via email, his discussion includes day-to-day predictions for snowfall in the various mountain zones of Colorado, sometimes going so far as to predict actual powder quality as a function of the snow's water content and/or density. The maps above are part of his forecast as well.  And in a departure to the standard meteorological, 'beyond reproach' style forecasting, Joel even offers up his own analysis of correct versus incorrect forecasting of previous updates. An honest weatherman you say? How refreshing.
After a few forecasts were called with a good amount of accuracy, I thought Joel and his email were worth mentioning. Sorry Jim Cantore, there's a new guy in town.
Oh, and it's free.
Here's how it reads(in it's entirety):
Good morning Colorado Powder Lovers!
– I am very sorry that this forecast came out about 24 hours late…I
blame aftermarket computer power adaptors for the issue!
PENN STATE HAS ME DOWN, SNOW PICKS ME BACK UP.
Not much to say here.  I am a rabid Penn State fan, and the football
team came up on the losing side against USC in the Rose Bowl.  PSU did
not play their best, and USC does look like a very good team.  I guess
I'll bury my frustration in the new snow that's coming on Saturday.
More on this below.
CHRISTMAS STORM SNOW DENSITY – NICE WORK CENTRAL COLORADO
The impressive Christmas storm totals from southern and central
Colorado (between 2-4 feet) also came in at a low density, which
meant lots of face shots and big smiles.   I calculated snow density
ratios of about 15:1 at both Telluride and Crested Butte.  This ratio
means that every 15 inches of snow would melt down into only one inch
of liquid.  A "normal" ratio is about 10:1.  At 15:1, the snow feels
pretty light, skis well, and likely falls off your car when you slam
your door.  Last week Steamboat reported between 18-26″ at a ratio of
18:1, which is about as light and deep as I've seen recently.
WEATHER PATTERN
The pattern for Colorado snowfall is favorable for all areas on
Saturday and then again early next week for northern areas.
The trough passes through Colorado on Saturday bringing some light
accumulations (less than 6 inches) to most areas west of the divide.
Then the trough moves to our east, but we will be on the western
fringes of the trough on Monday-Wednesday (see the "Tuesday January 6,
2009″ picture below).  This will likely mean on-and-off snowfall for
the northern mountains (Vail/Steamboat/Summit) with some strong
winds.  This could be similar to the pattern we had near Thanksgiving
of this ski season though it is doubtful that we'll see as much snow
now as we did then (~4 feet a Loveland).  As the week pushes on, the
trough will move to our east and a warm ridge will keep most storms
away from Colorado.
Sadly, the ridge over Colorado looks to persist from late next week
into the following week (~January 12th-16th), so there doesn't look
like much snow will grace our state after next Tuesday/Wednesday.
HOWEVER, if the trough pushes back just slightly further to the west,
we could see more snow stick with us over the next 1-2 weeks.  It is
impossible to forecast the exact position of the troughs and ridges
10-15 days out, but I'll keep watching and hoping.
BEST POWDER DAYS
The best powder days will be Saturday (everywhere), Sunday (in the
southern San Juans), Tuesday (north), and Wednesday AM (north).
THIS WEEK
01/02 FRIDAY: Party-to-mostly cloudy and dry.  A few snow flurries or
light snow showers from Vail northward, but nothing that will
substantially impact the rather hard and crusty snow surface.
01/03 SATURDAY: Snow starts to fall around sunrise in the north and by
midday in the south.  It will be windy early in the day, but the winds
will subside later in the day as the temperatures fall behind a cold
front.  Most areas should receive less than 6 inches, with the highest
totals in areas further west (Telluride, Aspen, Vail, Steamboat).
Snow will linger into the evening and will stop altogether Saturday
night, except for the San Juan mountains, who could see snow persist
into Sunday morning.  Temperatures will start in the 20s for most
areas and fall to around 10-15 by sunset.
01/04 SUNDAY: It will be a chilly start with temperatures at or around
0 degrees F, but with plenty of sun it will warm up nicely through the
day into the upper teens to around 20.  The exception with be in the
south where clouds and some light snow showers will keep temperatures
cool.
01/05 MONDAY: Clouds thicken through the day especially for the
northern and central mountains.  Snow could start later in the day or
Monday night, and the winds will pick up.  This is a tough day to
forecast as the storm could easily move a little further from Colorado
and not put down much snow.
01/06 TUESDAY: Light to moderate snow for the northern mountains will
persist through the day off-and-on.  Accumulations from Vail northward
(including Summit Co.) could be in excess of 6 inches by Tuesday night
with windy conditions, but just like Monday: This is a tough day to
forecast as the storm could easily move a little further from Colorado
and not put down much snow.
01/07 WEDNESDAY: Light snow could continue for northern areas, but
snowfall should wind down by the evening.  The wind will be a factor
again today across the northern areas.  This is a tough day to
forecast as the storm could easily move a little further from Colorado
and not put down much snow.
01/08 THURSDAY:  Looks like a dry day for the state with warming
temperatures (it will feel comfortable on the hill) and lighter winds.
KEEP ME HONEST: HOW DID THE LAST FORECAST TURN OUT?
Season Correct = 48.2% (27/52)
Season Pretty good = 30.4% (17/52)
Season Wrong = 21.4% (12/52)
Last week Correct = 57.1% (4/7)
Last week Pretty good = 28.6% (2/7)
Last week Wrong = 14.3% (1/7)
12/26 FRIDAY
FORECAST: Heavy snow with 2-3 feet total in the south, 1-2 feet in the
north, and 6-12 inches around Summit Co.
ACTUAL: Pretty good.  The storm came in a little late and a little
weaker than expected.  The south and central mountains still did well,
but the less favored northern mountains and Summit Co. recorded about
6-10″ less than forecast.
12/27 SATURDAY
FORECAST: Another great ski day with some clouds in the northern areas
and cool temperatures.
ACTUAL: Correct!  I found the snow to be cold and soft and the skiing
enjoyable.  It was definitely cool (or cold)!
12/28 SUNDAY
FORECAST: Mostly sunny except for the north.  Warming temperatures
make for a great day on the hill.
ACTUAL: Pretty Good.  I missed a few quick inches in the northern
areas Saturday night, but temperatures did warm on Sunday and it was a
spectacular day outside.
12/29 MONDAY
FORECAST: Dry, comfortable temperatures, and party sunny.
ACTUAL: Correct!
12/30 TUESDAY
FORECAST: Dry and sunny for most areas with some light snow in the
northern mountains.
ACTUAL: Pretty good.  A weak storm did brush the northern areas, but
it brought wind and clouds – no snow.
12/31 WEDNESDAY
FORECAST: Dry for most areas with some light snow late in the day for
northern areas.
ACTUAL: Pretty good.  Again, the northern storm was weaker than
expected and there was no appreciable snow anywhere in the state.
01/01 THURSDAY
FORECAST: Light snow for most areas, with amounts less than 6" (most
in the north, very little in the south).
ACTUAL: Wrong!  And again, the northern storm stayed too far to the
north to bring any areas in the state measurable snow.
OVERALL
The biggest blunder of the week was missing the correct trajectory of
the storms brushing the northern part of Colorado.  The models
indicated that the weak systems over Montana and southern Canada would
drop far enough south to bring some light snow to much of the state,
especially to the north.  However, the models were wrong (big
surprise!) and the storms came in weaker and farther north than
forecast.  The result for Colorado was no substantial snowfall in the
state for the week, and a series of incorrect forecasts on my part.
~joel
Suffice to say I look forward to getting more of Joel's reports, and while he ultimately hopes to be online with them regularly, for now I'll paste any powder forecast news as they arrive, through a link at the top of the page. I'll do my best to post the forecast BEFORE the storm's arrival, but if it sounds really good, I might just have to sit on it for a few days. 😉
Or to subscribe to Joel's emails, drop him a line at [email protected].
ted