Christy and I have run the San Juan Solstice 50 two times now and decided we wanted to try something new. So in place of the Lake City, Colorado race, with it's huge vertical gains and high elevations, we ventured to a different 50 miler we had long heard of, in northern Wyoming's Bighorn Mountains. The Bighorn Wild & Scenic race weekend offers up a 30K, 50K, 50 mile and 100 mile course, all held simultaneously and choreographed so as to have the four races finish on the same afternoon. As validation to its difficulty, the 100 mile race, which is an 'out and back' of our 50 mile course, counts towards the grueling Mountain Slam Series. Having run all of the other races in that series and knowing their difficulty firsthand, I knew this 50 miler would likely be tough. Hopefully it would also be fun.
Christy's sister Jen, and Kathy Fry, both of whom paced Christy at the Wasatch 100 last September, also found something appealing in it and decided to join us there. It was their first foray into the ultra scene which surprised at least a few of Jen's friends, some of whom were quick to remind her of earlier declarations made after witnessing Christy's suffering at WF100, that is to have said she wouldn't run ultra distances. I guess curiosity got the best of her. It's funny how the mind works sometimes.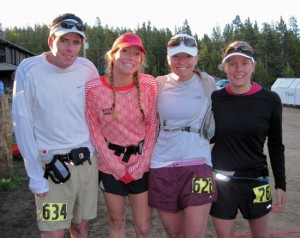 Good for them we said and the four of us made our way to Sheridan, Wyoming on Friday– Jen came in from Missoula and Kathy, Christy and I made the nine hour drive from Aspen. Later that day, upon picking up our race packets we received warnings about rattlesnakes, poison ivy and moose encounters (read below) and when combined with the rather casual announcement, in the fine print on the website, that the 50 was actually 52 miles in length, it was clear there wasn't much sugar coating at Bighorn. What's two more miles if you're already doing fifty? Not a huge deal we figured but I have heard more than a few marathoners through the years  complain about the pain felt from the .2 in their 26.2 mile marathon.
Despite some foreshadowing of difficulty and extremes, the course was awesome. Compared to the SJS50 there's less vertical gain which usually translates into a race that's more runnable, though it wasn't due to a lack of mountainous terrain. I would say as a rough estimate that forty of the miles are singletrack trails and of the remaining ten, about five are on doubletrack/ jeep roads and the other five, which take you to the finish line, are on a packed 2wd dirt road. Only a few hundred yards at the very end are paved. I don't know of another race I've done that had so much single track and so little road, either dirt or paved, which to me scores it a pretty high mark. The point-to-point course also has sizeable net elevation loss, which is always nice. Over the 50 miles, my watch showed a gain of 5,850 feet and a loss of 10,400 feet, all over an altitude range of 9,080-4,295 feet.  Not too punishing compared to some races, at least on paper.
As far as my race went, after unexplainably breaking from my usual M.O. of starting out slow and finishing strong, I found myself suffering through the last ten miles after going out a bit too aggresively. I felt the need to blame something other than myself, my one month 'slacker' training schedule and my fast start that rarely works well with the slacker schedule. Once finished, my attitude changed for the better and I accepted that 10:49 and 19th is nothing to complain about. Nothing at all. And when the girls came through soon after, each one equally excited, it was even more apparent that it really was a good day.
Jen covered the last five mile stretch of sunny dirt road in forty minutes. If you need help with the math, that's eight minute miles. When you put that up against the one hour I logged through that stretch I'll concede that Jen's more structured training works better than the 'slacker' approach. Her declaration of how much fun she had would seem to hint at some more races in the future too. Covering the distance for her first time and crossing the line at 12:43 is impressive for sure, though it might be something of a concern to her parents, Rick and Lynn, who I'm expecting to hear from soon in regards to my role in now encouraging both of their daughters to try this stuff, something I know my mom wishes I wasn't into.
Big congratulations to Kathy on her first 50 mile effort as well, who had a similarly good day as Jen, slightly blistered yet smiling and psyched to be there, pulling in at 13:27. Afterwards, Fry conceded having experienced the whole spectrum of emotions out there, thinking back to a funny YouTube clip (seen below) on the subject of ultras for some uplift from time to time. Thanks for the photos used here as well.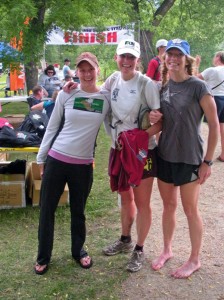 And as for Christy, her 11:38 was so smooth that she's since decided to put Leadville 100 on the schedule for later this summer. More on that later for sure. Rick and Lynn– I promise I had nothing to do with that decision.
I'm sure the girls would agree that we can file this one in the "great day" category. In a few weeks, when the soreness wears off, the blisters heal and most of the suffering has been forgotten, I'll be curious to hear what they come up with next. I wonder if I'll even be invited along.
And in other Bighorn news–  for one of the more interesting stories of the weekend, check out Karl Meltzer's run in with a moose while setting a new course record for the win in the 100 mile race. Crazy.