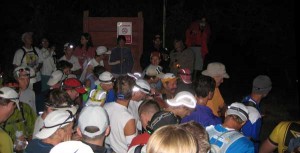 The ten second countdown to the start of a 100 mile race is a crash course in coping. I often feel a bit sick to my stomach and while standing there I can't help but think about what is happening, what kind of mistake I've made. How did I get in this situation? Why would anyone voluntarily sign up for this, let alone pay money to participate?  Will I really watch the sun rise twice while out on the course? This is nuts!
Once the start anxiety is behind you what remains is the daunting prospect of covering 100 miles on foot. Reality sets in. This is going to be a very long day. Sure you'd like to finish strong, maybe even meet a desired time but above all else, the most basic goal becomes to survive the day and make it to the finish.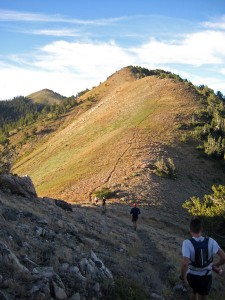 Saturday was Christy's first lineup for a 100 miler, and these thoughts were in the front of her mind. Though technically a rookie, she was glad to show up with a bit more experience than the true neophyte. With eight Elk Mountain Grand Traverses and three 50 milers she knew what a long day entailed, or used to at least. She's paced me through some of the darkest moments of a few 100's, including the last 25 miles on this very course two years ago. Short of running one herself she had seen about as much as anyone could. But still, you only know how this type of thing ends when it's over. Good support can make all the difference.
Jen and Kathy Fry crewed and paced for Christy while Tim Mutrie and Tom Goodrich were there for me. The six of us drove to the start together and after the gun went off and Christy and I departed, they went back to bed. Christy and I thought it better to run our own races so we split up at the start. The next time we saw our respective crews would be near mile 40, at Big Mountain Pass, some 8 hours later. At that point we were just getting started.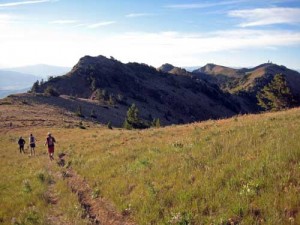 There's a cliche thrown around ultra courses that has to do with the real "race" not beginning until a certain aid station, somewhere deep in the course. The aid station name varies with the course but the idea is the same for all ultras, that the first 50-70 miles serve as a warmup, a sorting of the field. For Wasatch, many consider the real race to begin at Big Water(60) or Brighton(75) aid stations.  It's around that point where vulnerabilities and deficiencies are exposed. Poor hydration and nutrition can result in devastating bonks, insufficient training can reduce you to a crawl and a weak mental state or a fast early pace could leave you feeling as though you're dragging a ball and chain from your ankle marked with the letters "DNF". Hope can disappear with the setting sun as the arrival of night only makes matters worse.
With that said, I was happy when the 23 miles from Lambs to Brighton(53-75) where Goodrich paced me, went smooth. We picked off racers at a steady rate and ran sections I walked on my last trip here, never hitting any real low points. It was as good as I could have hoped. The race eventually caught up to me though and through several hours of Tims' pacing leg(75 to the finish) I had some serious attitude erosion. Two sections of difficult trail got me particularly angry and because Tim was often the only one around, he heard about it. As dawn approached and the urge to sleep arose, things got worse. He deserves another round of beers for putting up with my crap. The fact that his pacing helped reel in near ten racers was huge.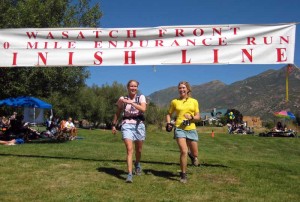 Once dawn reared its head it was all good. We pulled into the finish in 26:22(7:22am) for 18th place, just minutes after sunrise and nearly two hours ahead of my 2006 time. With no mechanical(joint/muscle) issues or blisters it was a big improvement. When news came that Christy was on the move and nearing ten miles to go, the good feelings really set in. She had pushed through the night and would most certainly finish.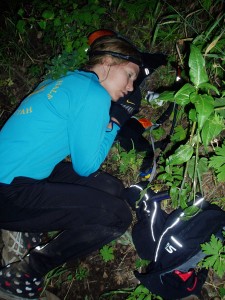 At 11:47am Christy and Jen arrived, still running and with big smiles. Later, as the stories were shared it was clear Christy experienced the full spectrum of experiences out there. For a long stretch she was unable to keep food down and was reported to have repeatedly fallen asleep while holding onto Kathy's arm. Mention of the word 'Gu' resulted in gagging and she somehow managed to squat in some burrs while relieving herself, getting the prickly nuisances stuck to places you'd rather not.  She persevered through sections of steep and horrendously loose rocky trails while barely awake, fought back the shivering chill that came on after brief stops at aid stations and after a 90 second nap on the side of the trail she rallied all the way home.  With Jen and Kathy's help she made it to the finish in 30:47 for 58th place, more than an hour ahead of her goal time, and as the 6th woman! Damn.
In the end 241 people lined at up at the start early Saturday morning.  When the 36 hour time limit was reached Sunday afternoon, 162 people had finished(67%). One in three DNF'ed. (full results here)
Congratulations to Jean Coulter, an Aspen friend and race advisor to Christy. Her 29:22 and 3rd overall womens finish was impressive.
And with that, we are happy to say our running season is done. Goodrich, we're sorry we missed you for beers afterwards!