It's been a few years since Christy and I ran a major city marathon. I think we forgot how much fun they are.
Usually planned as a fall event because it's just too hard to log miles during ski season, our last run on a paved city course was in New York in 2007. The combination of an overbooked calendar (our wedding last year and a Himalayan expedition the one prior), and a focus on more ultra-distance events just hasn't allowed for it recently, so with a more open schedule this year we looked around for a fun fall race. Having heard favorable reports about the 26.2 mile course from Minneapolis to St. Paul, and after learning that Christy's sister Jen and her friend Tristan Scott would be coming in from Missoula to give it a go, we decided it was time to check out the Twin Cities Marathon.
The course itself is pretty flat, and with a field in excess of 8,000 runners, it's a good size– not so big it feels crowded, but with enough people around you that it never gets lonely. And despite connecting two metropolitan areas, it follows a surprisingly scenic route, winding its way around lakes and through parks or park-like neighborhoods almost the whole time.
If I can digress to the "scenic" point for a moment, I find it funny how often the claim of "most scenic marathon course" is made in ads for races in the running magazines. It seems as though many of the races these days are bestowed the title of "most scenic" or in the Top Ten of such lists. After participating in a few marathons with that designation and finding myself jogging through warehouse districts, along commercial strip malls or scurrying across major traffic intersections– in Portland 2001 I was held up for two minutes by a passing freight train while in an industrial park– I just started to accept the whole "scenic" thing as a bogus sales pitch.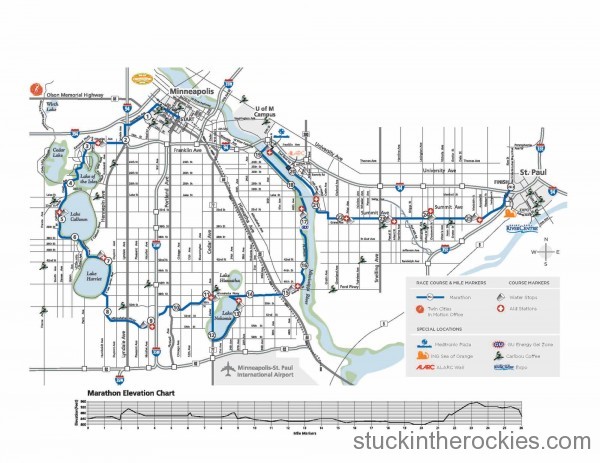 But after Sunday's race I think I've finally been on a course that deserves the distinction it declares. In this case, I think the designation of "Most beautiful urban marathon in America" is a fair claim. There may be others that also fit that description, but in my opinion the Twin Cities course is the nicest urban course I've seen.
As for the actual race, cloudless skies and cool temps made it the kind of day you wish for, and the ideal conditions no doubt helped Jen and Tristan set new PR's (3:28 and 3:04, respectively). Nice work guys. Furthermore, Jen, Tristan and Christy all qualified for the Boston Marathon, which was one of the goals of the day. Whether or not Christy will decide to fight the winter weather here in an attempt to train for the classic spring race remains to be seen. Having run Boston in 2002, Christy and I found it challenging, if not a drag, to go out for long runs on icy roads and trails, when everyone else is skiing. But it sounds like Jen and Tristan are in (and I think May is too), so Christy might be there. We'll see.
And my race? Well, a 3:19 isn't a bad time by any measure, but without setting a PR and missing my 3:15 qualification for Boston by a few minutes, I was the big loser of the group, at least in a relative sense. It was the first time in some ten years that I went out for the Boston cut and didn't make it, and despite having sworn that race off for the aforementioned challenges, deep down I knew it would have felt good to have qualified. So to make myself feel better I did a little post-race analysis and managed to uncover a scapegoat to once again debunk the idea that I must just be getting older and slower. Because we can't have that.
Since we hadn't run a marathon in a few years, Christy and I weren't eligible for a spot in the faster start corral. Instead, when the gun went off, we were way back in the 8,000 person field, in a mass of first-timers and back-of-the-pack runners. And when you start towards the back but want to run nearer to the front, in a group of this size there are just too many people in the way. By the time you get up to a place in the field that's moving at the pace you want, it's often too late to make up for all the slower miles.
From the chart of my recorded chip-timing splits and places above, it was more than six minutes from when the gun went off until Christy and I actually crossed the start line. We were barely moving at a slow jog. At that point I was in 5,673rd place. Twenty-five minutes later, after weaving through the field in an attempt to move up in the pack, I crossed the first 5K (3.1 miles) checkpoint in 1720th place, I had passed nearly 4,000 people through the most congested part of the course. It was like trying to run for a train in Penn Station during rush hour. In the end I finished 700th, after moving up 5,000 spots. The energy spent moving up and through a crowded field of runners may be hard to quantify, but I've convinced myself that with a better start position I could have taken off a good chunk of time. Twenty minutes for a PR? Well, probably not that much, but a few minutes to a sub 3:15 is entirely possible, or at least that's what I've been telling myself.
Too bad there's no prize for the most improved overall place, right?
Excuses aside, this one should be logged in the books as another good day for everyone, including me. For anyone considering this race, it's as well suited for the first-timer as it is for the PR hopeful– congrats again to Jen and Tristan for doing just that and to Christy, Jen and Tristan for qualifying for Boston. Good luck there next year.