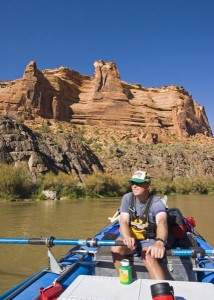 (or better yet, …to us!)
Canyon country is awesome this time of year. So when Tim asked if I'd like to join him and some friends on a Westwater trip, I was in. I've always been curious to see what this classic Colorado River run was all about.  And with rapids that bear names like Funnel, Skull, Razor Rock and the Room of Doom I knew this wouldn't disappoint. It might be nice to go for a swim, too.
And swim we did. While running the rapids on the second day, the boat flipped after entering the 'Sock It To Me' stretch, and Tim and I suddenly found ourselves upside down and in the river.  Between the two of us all we could recount was how quickly we went from lined up and ready for the class 4 rapid to being pitched up and back with the boat rolling on top of us.
After the acrobatics Tim found himself by "Magnetic Rock" where he was picked up by Ryan and Katie. I swam the rapid until it mellowed, where I found myself within reach of the overturned boat. I jumped on top and rode out the few remaining rapids, "rodeo style" (to quote a friend), atop the capsized craft.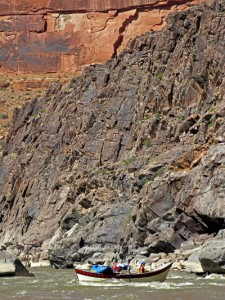 Photo coverage of the carnage was lacking as both cameras were thankfully in the dry bags, tied down and below the surface, until we righted the boat some 20 minutes later. The photo to the right shows Rod Nash and his dory, Canyon Dancer, getting lined up for "Skull".
In hindsight it was all good fun. We lost some food when water breached the cooler and the oars went missing somewhere during the flip,  but everyone was OK and we were joking about it soon after. It's my opinion, and Tim may disagree, that it made the trip memorable.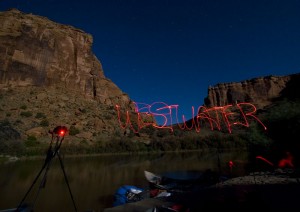 Here(left), a 30 second timelapse proves to be just enough time to write "Westwater" in the air with a red LED headlamp. The full moon lit up the surroundings.
To Rod, Arlene, Bob, Pam, Anson, Ryan and Katie, it was great to meet you all!
And if anyone happens across two 10 foot oars somewhere below Sock it to Me rapids, drop me a line and we can get them reunited with the Tim, who can now declare himself to be officially "initiated". Well done.