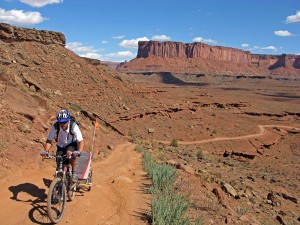 "I'd like to see the guy who can ride up that!" said the rude guy from California as he arrived to the top of Murphy's Hogback, walking his bike. When it was revealed that not only did most of our group ride the steep hill but Jared managed to do it with his daughter, Maia, in tow, he started in about how his gear ratios weren't the same (otherwise he most certainly would have cleaned it).
Jared and Diana put the trip together, as they have for six years now, taking only one year off when Maia was born. Now, at age 2, they decided she was ready to take part in the annual pilgrimage to Canyonlands, and maybe even be enough of a sport to take on some of biking we were headed there for. Kurt Godwin, Jim and Cindy Lindsey, Kara Klein, Justin Hankens, Craig Chalmers and Christy rounded out the group.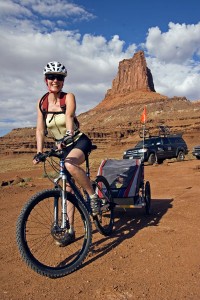 To provide some background, the White Rim is a road that follows a white colored strata of rock through the Island in the Sky district of Canyonlands National Park. Permits allow for 16 people and two vehicles, are required for overnight trips and need to be applied for more than a year in advance.  Campsites are assigned and help to spread out the 105 mile loop over several days.  The riding can be anywhere from 15-40 miles each day depending on which campsites you're given. (see map link below)
If you're on it, like Diana, and you get your permit application in early, you might get your first choice of campsites. This year, like many before, we were given the coveted White Crack camp for our second night. With a short hike you can be out at an overlook of the Green and Colorado Rivers' confluence, with the Needles and Maze districts serving as a backdrop. We all agreed this is one of the most spectacular vistas that exists. It's jaw dropping, almost unbelievable to witness. Check out the panorama of the Maze District taken at sunrise, just one part of the immense view. Click to enlarge.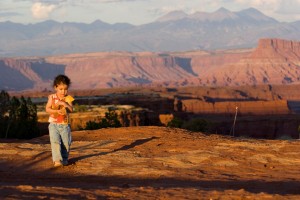 With all of the car camping comforts and cold beer filled coolers in tow, this trip is always a blast. In the beautiful fall or spring desert weather it's hard to have anything but a great time. Just ask Maia. And before we were even finished with the ride we were talking about next years trip. Di already has the permit, for next October and with White Crack once again! Who's in?
One last shot of the family. Jared, Di and Maia making their way up the steep switchbacks from Mineral Bottom to finish the trip. We didn't see the guy from California.
Thanks for putting another great trip together!
For a map and general info check out this PDF- whiterimmap