As part of getting all caught up after our trip, we've been chipping away at the Himalayan-like pile of mail that awaited us at home. That means flipping through a glossy ski or climbing magazine faster than Christy can cover a fluffy fashion mag while waiting to check out at the supermarket.
So we almost missed the ad.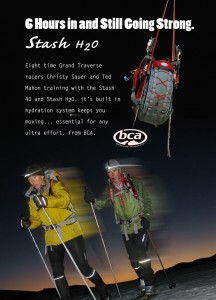 Last June, Art Burrows asked if we'd be interested in taking part in a photo shoot. He needed skiers, posing as racers in the Grand Traverse, to model some hydration packs from Backcountry Access. After an hour of clowning around on nordic gear up at the top of Independence Pass, he put this mock up together (the printed ad in Backcountry looks slightly different). Considering he forgot the batteries to his big SLR, and it was all shot with a Canon G9 point-and-click (the same I brought to the summit on Ama and far from the ideal rig for a professional photo shoot), we couldn't believe what he put together.
We weren't really too surprised though. Art, owner of Ajax Design, is a professional photographer and designer of all things from telemark boots to websites, and his talents can be seen all over town. If you haven't stared at one of his Aspen area panorama posters yet, perhaps you've glanced at the "Ski the 14ers" book. Well done Art!
So if you're in need of a new hydration pack, other backcountry skiing items or just want to see what's new for gear this season, check out what Backcountry Access has to offer. Their Tracker Avalanche beacon is considered by many to be the best around and their packs are sweet. Christy and I are big fans.
Oh, and don't forget that registration for the GT is less than a month away. It fills pretty fast. Christy and I are in for sure. Twice more and we'll each have ten finishes!