Christy's Four Mountain Challenge

[Christy here]With four ski mountains in the area, locals have an unique opportunity to ski them all in one day. The "four mountain challenge" as it has been called, isn't something that's done or talked about very much and there seems to be several different ways it can be executed. Most of the time it's an Aspen old timer that has gone out for the challenge. Tom Hines and Dick Jackson did the tour for Tom's birthday 30 years ago starting from Snowmass and making their way to Aspen Mountain via Midnight Mine Road in time for a beer at the Sundeck at 3:30pm. Well-known, local skier Johnny Love likes to connect all four mountains by riding the chairlifts, skiing down, and then driving between the ski areas, in which the hardest part is probably the parking. Last year Ted and I took the advice of Aspen natives Andre and Pierre Willie and skinned and skied all four mountains starting with Aspen and finishing with Snowmass. In preparation for this year's Grand Traverse,I went out for the challenge this past Saturday. Ted was unfortunately teaching ski school that day but got up early to hike Aspen with me.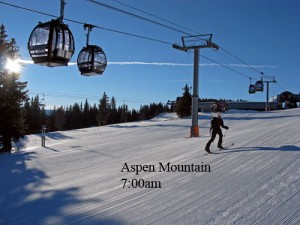 #1 Aspen Mountain
The day began at 5:45am, stepping into our Grand Traverse skis and skinning up the standard Spar Gulch route on Aspen Mountain. We reached the Sundeck in 1:20 and after a brief stop for hot chocolate and additional layers for the descent, we headed down and parted at Schuss Gully. I skied down to Lift 1A then got on the snowpacked trail behind Koch Park which would bring me over the Marolt Bridge, to the Meadowwood neighborhood, then to the Aspen High School cross country trails which leads to the base of Thunderbowl and Aspen Highlands.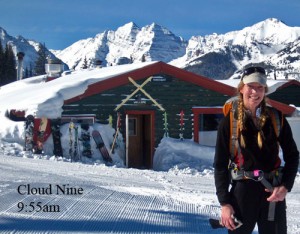 #2 Aspen Highlands
It took about 50 minutes to get to the bottom of Highlands from the base of Aspen Mountain, which seemed surprisingly long but at 8:35am I was climbing up Thunderbowl's steep face to Cloud Nine Restaurant. Ski patrol doesn't allow you to skin to the top of Loge Peak Lift after the ski area has opened at 9am but it is usually OK to sneak past Merry-Go-Round, up Wine Tree, and to Cloud Nine without anyone stopping you. It was 9:55am when I arrived at Cloud Nine. I quickly had a snack and skied back down my ascent route to the High School's cross country trails, around the ARC (Aspen Recreation Center), and over to Tiehack on the continuous, nordic trail system Aspen has built.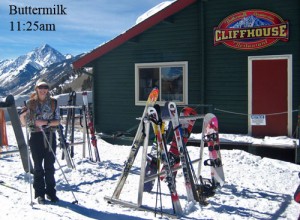 #3 Buttermilk
I was at the base of Tiehack putting on my skins at 10:35am. Buttermilk is definitely the easiest of the four and before I knew it, I was at the top eating lunch at the Cliff House around 11:25am. After the 20 minute break, I tore off my skins and skied down to the base of West Buttermilk. Even with the unseasonably warm weather we have been having, I was able to ski most of the road on the shoulder down to the Owl Creek Trailhead located on West Buttermilk Road. This is the cross country trail that would connect me with the final peak of the day.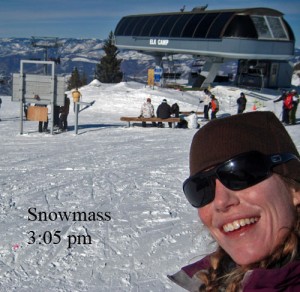 #4 Snowmass
Hopping on the Owl Creek Nordic Trail at 12:15pm I was on my way to Snowmass. This is the longest traverse of the tour but with the trail in awesome shape it only took 50 minutes to get to the base of Two Creeks in Snowmass. This uphill proved to be the hardest of them all. Not only is it the last climb, but with 3,200 vertical feet it is just about as big a climb as Aspen Mountain was over 6 hours earlier. After an hour of skinning, I made it up the steep hills just below Cafe Suzanne. As I passed, I was wishing I could stop and enjoy a beer on the deck like all the other tourists, but I put my head down and kept on pushing. I arrived at the top of Elk Camp at 3:05, exactly 2 hours from my start down at Two Creeks. It was a gorgeous, sunny day with incredible views of the Maroon Bells. The most uncomfortable part of the day remained though, having to ski down from Elk Camp to the Snowmass Mall on those skinny cross country skis. I made it down at 3:40pm, just in time to buy a Gatorade and hop on the 4pm ski shuttle back to Aspen. The whole traverse took just under 10 hours, 9:50 to be exact.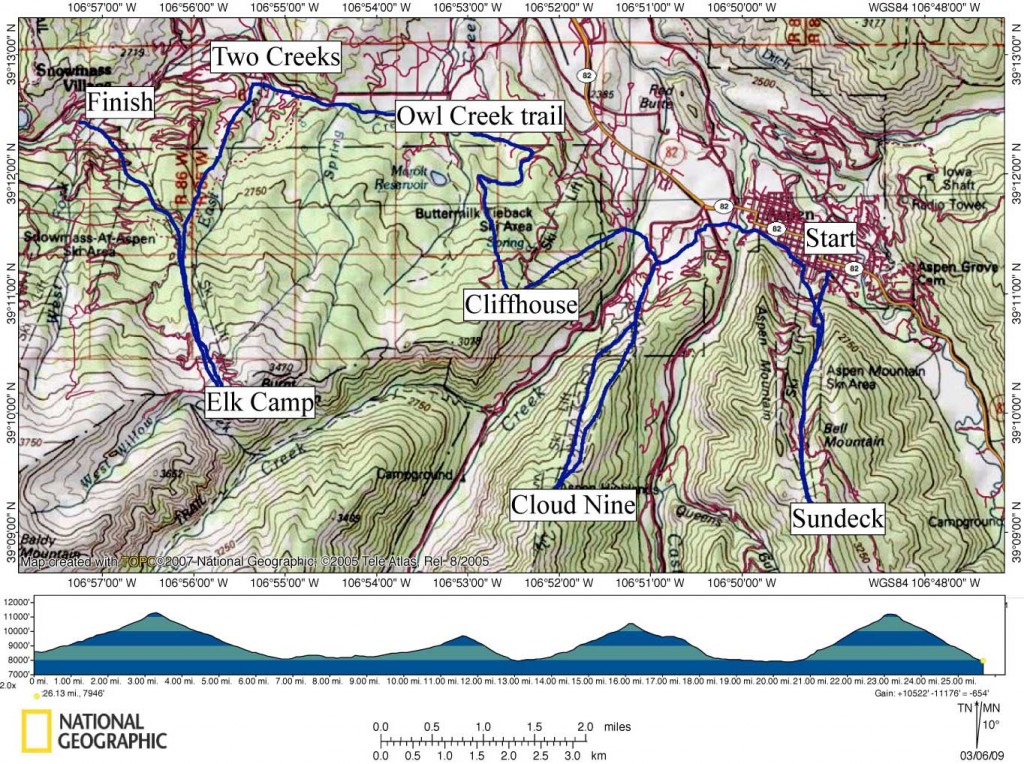 Greater than 10,000 vertical feet gained and lots of transitions, it's great training for the Grand Traverse but mostly just a fun way to experience all the ski areas in one day. Now looking back, the true ski purist would actually ski back to Aspen via the Owl Creek Trail. I wouldn't be surprised if that's how the Willie brothers did it….