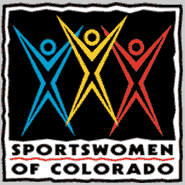 (Christy here) This weekend I had the honor of attending the 37th Annual Sportswomen of Colorado Awards Celebration. Prior to receiving a letter a few weeks back notifying me that I was the recipient of an award for Superior Performance in Ski Mountaineering, I was not familiar with the organization. Honored to be included, I headed to Denver, and along with my parents, attended the gala event. As it turned out, this was one of the most inspirational and special events I have ever experienced.
Founded in 1974 by the YWCA of Metropolitan Denver, in cooperation with Gart Brothers Sporting Goods Co., Sportswomen of Colorado is recognized as the first community-based organization in the nation to honor athletes at the state level. With the  amount of exceptional athletes who live, train, and participate in women's sports in Colorado, it shouldn't come as a surprise that it has such a long history here. Past Sportswomen of the Year include names like mountaineer Ellen Miller, mountain biker Alison Dunlap, swimmer Amy Van Dyken, and figure skater Dorothy Hamil.
Honoring approximately 30 of Colorado's outstanding female athletes every year, awards are given to women participating in a wide range of sports including alpine and nordic skiing, track and field, basketball, cycling, mono-skiing, triathlon, lacrosse, swimming, just to name a few. The organization also presents awards for Masters winners, special awards for Coach-of-the-Year, Award for Courage, and Most Promising, as well as the 2010 Hall of Fame honorees. Needless to say, the house was packed with the strongest group of women I have ever seen in one room, each one of them more accomplished than the next. I felt sorry for the committee that had to choose just one of these amazing women athletes to become the 2010 Sportswomen of Colorado.
This years event was hosted by Marcia Neville and Susie Wargin of Channel 9 News, with guest speaker Jamie Carey of the USA Basketball Team, and the awards ceremony could not have been any more exciting. The 2010 Sportswomen of Colorado Award went to Alana Nicholas, who, as a paraplegic, was nominated for her achievements in mono-skiing and is the first American woman to win gold in both summer and winter Paralympic Games. You can read more on this exceptional athlete and incredible role model here.
Not only were these women driven and dedicated athletes, but they were also achieving great heights in academics and encouraging participation in girls and women's sports through volunteering and coaching. My parents and I were utterly blown away with the amount of talent and poise each award winner possessed. I owe a special mention to Mary Kvamme who saw my 14er story in the Denver Post this year and suggested nominating me so I could have opportunity to be included with these outstanding female athletes. Thank you.
If you would like to learn more about this influential non-profit or would like to nominate a female athlete for the 2011 awards, check out the Sportswomen of Colorado website at www.sportswomenofcolorado.org. I am looking forward to becoming more involved myself!