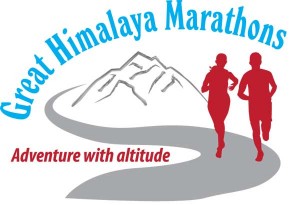 On May 29, 2003, the inaugural Tenzing Hillary Everest Marathon took place. Nepali owned and organized, the race has been run every year on May 29th, the anniversary of Tenzing Norgay and Sir Edmund Hillary's historic 1953 Mt. Everest ascent. The mostly downhill course descends the Khumbu Valley along popular trekking routes, from Everest Basecamp at 17,500 ft. to Namche Bazaar at 11,200 ft. In recent years, the race has had over 100 runners participate, but the field is primarily filled by Nepalis, with the minority of runners being from other countries. Rarely have there been more than a handful of Americans.
Ten years after that inaugural event, the organizers are adding new races. On the same day as the marathon in 2014, the Everest Ultra 60k Run will follow a longer course, but with the same start and finish lines. And planned for June 2015 is yet another event— a multi-sport adventure that includes a marathon, mountain bike, and a tandem paraglide– that starts from Annapurna Basecamp and finishes near Pokhara.
My friend Andy Crisconi and I are helping the organizers in Nepal build support for the event, specifically from runners here in the United States. As the owner of One World Trekking, Andy is an expert on the region and on how to set up a successful trip. And I know a bit about the running part, and might be able to get news and information directed to the right places.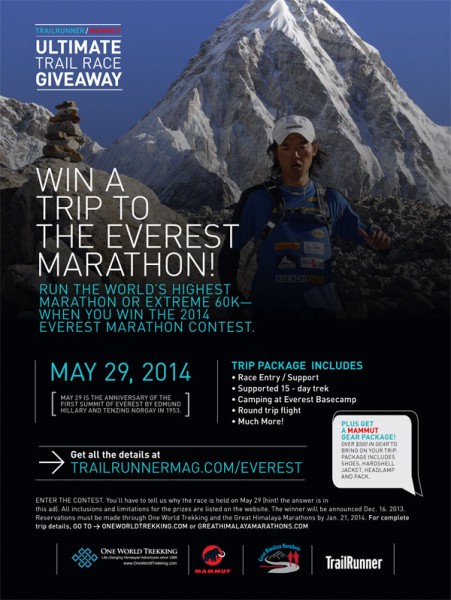 To start things off, with help from Mammut and Trailrunner Magazine, we've set up a contest to win a trip to run one of the 2014 races. Included in the prize is the race entry, the entire 15-day trek, as well as the flight to Nepal. All you have to do is sign up on the Trailrunner Magazine website here. We've also launched a new website on the race series, greathimalaymarathons.com, where we're continuing to add race information.
Don't look at it like a typical marathon. You're not going to drive to the start, pickup your packet, run for three or four hours and be home in time for dinner. It's a two and a half week adventure vacation that culminates with the highest marathon in the world. It's truly unique.
Interesting to me is the fact that much like a dominating field of Kenyans in a big city marathon, in the ten years the race has taken place, only local Nepalis have stood on the podium. Surely there's someone out there, from the U.S. or elsewhere, who wants to test their mettle against the sherpa locals. The current course records are:
MEN:
Mr. Deepak Rai (Nepal)
3:28:27 (2008)
WOMEN:
Ms. Ang Futi Sherpa (Nepal)
4:46:14 (2011)
Stay tuned for more info, but for now get over to the contest page and signup.