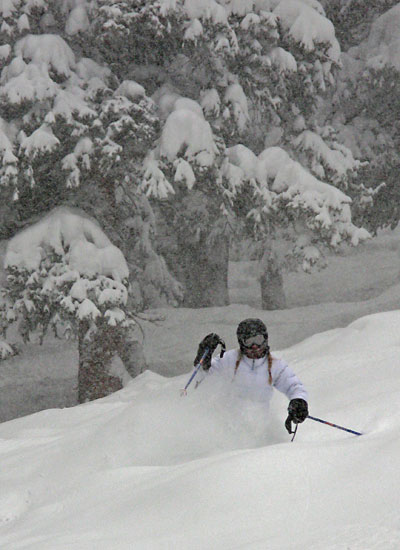 What a shame. There was too much snow for Christy to effectively show off her new green ski pants at Aspen Highlands the other day. Were it not so much fun, she might have actually cared that her '08-'09 ski season fashion debut went largely unnoticed.
The twenty inches that fell by Sunday was augmented by another storm that came through Tuesday, with yet a third walllop expected Thursday. Things are looking good. Most of Aspen Mountain is now open, and given a few days time to for things to settle, Aspen Highlands and the Bowl should be coming into top form.
On the subject of  settling, some people need to settle down and stop charging as though it's never going to snow again. There have been countless reports of avalanche activity, inside and out of ski area boundaries. It shouldn't require a tragedy, like the one on Sunday, to remind everyone of the real consequenses out there. It's a long season, and the terrain will eventually open and be safe. Honor the work of the patrol by respecting all closures.  For now, for us, the inbounds is skiing great.
We were all sorry to learn the sad news about Cory Brettman.

There's some green!
For some recent unfortunate news from Snowbird, read here.
And for another close call at Vail, read the story here. Just to lighten things up, I didn't know Vail was steep enough to even have a slide.
And if you didn't already know, there's a memorial for Cory at 3:30 on Friday at the Sundeck.