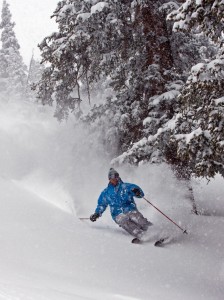 Once in a while we all have to give something back. So when I saw the email yesterday I knew the right thing to do was go donate my time. It was a worthy cause. Here's how the request for volunteers read:
Powder Posse on Friday April 17th (tomorrow) ski up the POWDER.
To join this Posse:
You must be an expert skier or rider in good physical shape
You must be comfortable in deep snow on double diamond terrain
Report at the Plaza of Highlands at 10:00 Up load by 10:30am
Sign a waiver (this is not a paid day, nor are you covered under worker's compensation)
Bring lunch and liquids
There will be early exit times,
You will be directed where to ski and ride…you have a mission!
If you meet these requirements, please join us AND tell your friends —Highlands needs your tracks,Thanks,
Highlands Patrol
Mac Smith & PIMO
"Highlands needs your tracks"? Well, their plea for assistance netted around 200 very charitable locals, all eager to help with the community service. Some were so excited to lend a hand they fought their way onto the lift, rudely cutting in line and skiing over other volunteers skis.
And when the day was done everyone agreed, it felt good to have been able to help. 😉
Thanks to the Aspen Skiing Company for the treat today and if you're around tomorrow, go up to Highlands because they'll be open for the next two weekends and with this new storm it's pretty nice up there.