The Hardrock 100 starts tomorrow at 6am, and with any luck could be over sometime Saturday. How will it go? Well, there's so much to this race, so many variables and unknowns that it's impossible to say for sure, until it's over. So I have to fall back on the cliche for my answer– it's hard telling, not knowing.
I pulled into Silverton right on time this morning, about twenty minutes before registration ended and my coveted number–which was earned through a weighted lottery system and after meeting the race prerequisites–was given to any of the waitlisted runners here hoping someone would no show. Unfortunately for them, all 140 accepted runners checked in and none of the waitlisted got a number. Some of them might check again in the morning for one last chance, just in case someone gets cold feet.
My goal- well, just finishing here within the 48 hours is enough for many and when you consider how many DNF's there typically are, I'd put myself in that camp as well. If everything goes just right, I'd love to match my time from last time here, 33:15, in 2007. That's all I'm willing to hang out there.
Track the race through the aid stations here. – I'm #156. After considerable success in 2007 (14th place) as a first timer, attributed partly to starting out slow, I'll be following the same strategy tomorrow. It's a long day and there's plenty of time to play catch up.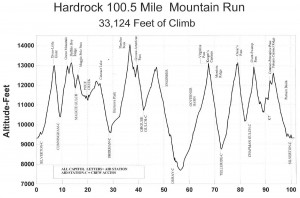 Christy, Tim and Kathy are heading down tomorrow to fill the saint-like roles in the crew. For now the plan has Kathy pacing me from Ouray to Telluride, one of the toughest legs and likely taking place entirely at night, and Christy will tag in to pull me along from T'ride to the finish. The mileage/ elevation chart to the right explains a lot, once you get over the initial ridiculousness of the scale. Click to enlarge.
So now all I can do is sit here in my hotel room and think about what's before me. And despite some short panics of having forgotten something or feeling some weird pull in a muscle or pain in a joint which disappears as quickly as it strikes, I'm excited.
And from none other than the New York Times this morning- a mention of the race and a fellow racer and friend who will be here tomorrow. I guess this stuff is really hitting the mainstream.