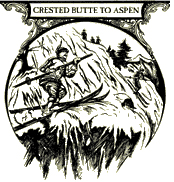 Twenty eight minutes. That's the time it took for the Elk Mountain Grand Traverse to fill up on the morning of December 1st this year. While it may not be quite as hard as the race itself, getting a slot in some of the more popular races can be pretty challenging in itself. As testament to this, a congratulatory email was sent out to all those who got one of the coveted GT slots– not for finishing, but for being able to start.
Sorry if you didn't get in.
So even though the temperature regularly dips down in the single digits and summer seems really far away, if you are at all considering lining up for some of the more popular summer races, you better start planning now.
Here are some deadlines:
Hardrock 100 – submit application and qualifications for lottery by February 6th
Wasatch Front 100 – submit application for lottery by January 9th
Lake City 50 – no lottery, online registration stampede is January 15th at 7am. New this year, you must have completed a trail ultra to qualify.
Bighorn – registration for 50K, 50 mile and 100 mile races in the series begin on February 1st through Active.com
Pikes Peak – to be announced, usually through Active.com in mid March, you have to be quick with a mouse to get in this one.
Imogene Pass – June 1st registration for the September race, like Pikes' Peak it goes quick.
Leadville 100 run – registration is now open and will close July 30th unless it fills up first, which it usually doesn't. The longer you wait the more expensive it gets– $250 now, $350 later.
Leadville 100 bike – applications are being accepted for lottery drawing through January 31st.
So get your stuff in now, you can worry about training later.