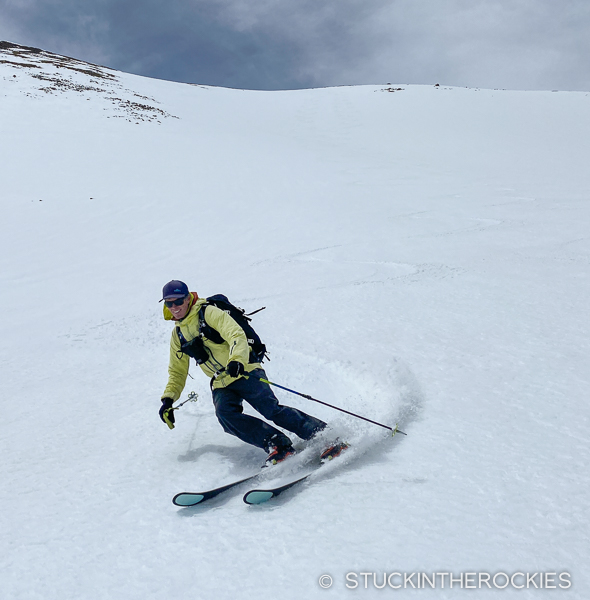 Just north of Grays and Torrey's peaks, on the other side of Interstate 70, lies Bard Peak, 13,641 ft. The mountain, a high 13er, has a huge east facing bowl with abundant ski lines. In the case of our day here this past May, Bard Peak was one of the best corn snow ski descents we had all year.
Bard Peak a good example of a mountain that we never would have known about had it not been for our occasional referencing of peak lists. We know that some people don't like to have list-based outdoor goals. When it comes to finding new objectives for backcountry skiing and ski mountaineering in Colorado, Christy and I find them incredibly useful. We love pulling out our most recent list and finding a mountain we aren't familiar with to go and explore.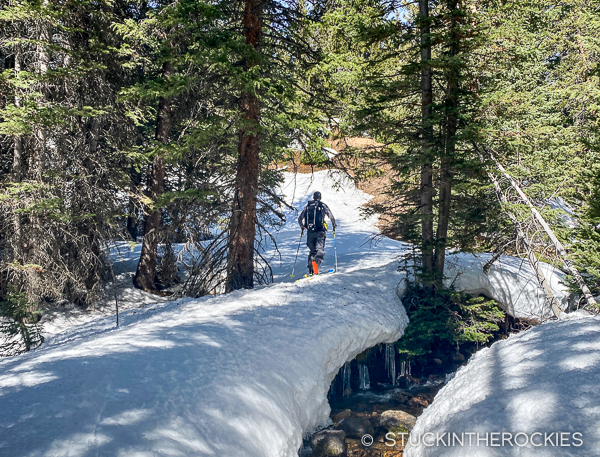 Early on, it was the list of 14ers. Once we made our was through that group of summits, we began to reference the list of Colorado Centennial peaks (the tallest 100). Eventually we finished skiing all of those too, so we printed up a list of the top 100-200 tallest mountains in the state, mountains known locally as the Bicentennials.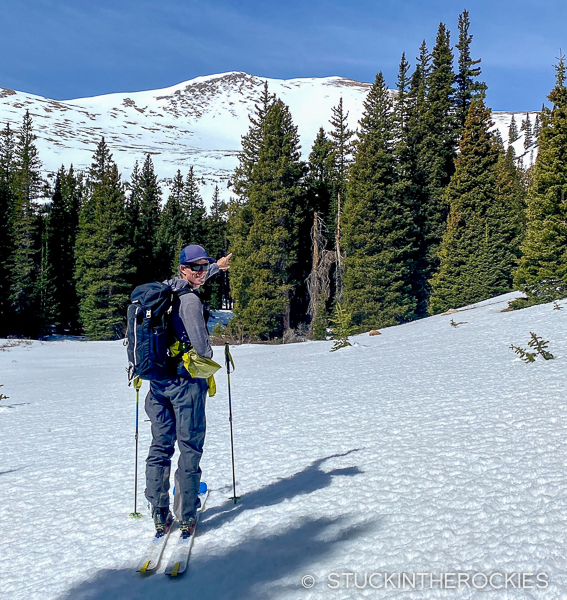 That list resides in a drawer in our coffee table at home. We consult it whenever we're looking for a novel summit ski mission.
And that brought us to Bard Peak.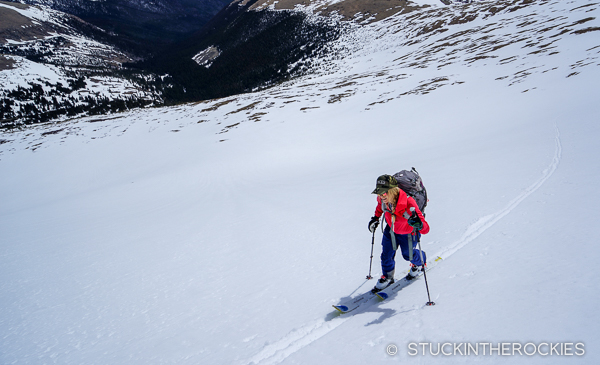 It was a new region for us to explore. Our trip began by driving to the town of Empire, just east of Georgetown on I-70. From town, we followed a 4wd road up into the valley along Bard Creek. The weekend we were there, we were able to drive to near 10,000 feet. Depending on the snowfall and the type of spring season and rate of melt, you might find a lower or higher starting point than us.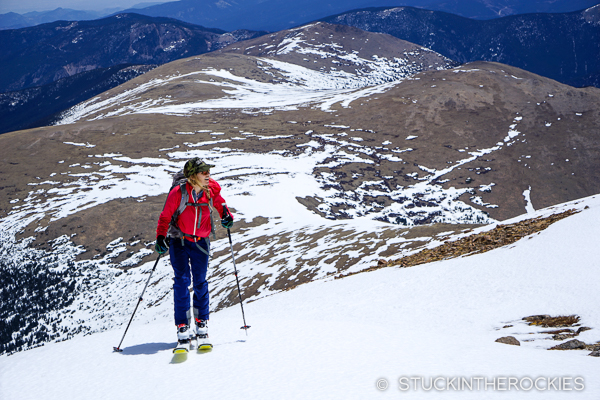 No matter where you end up starting, follow the road up to a signed summer trailhead and continue up the trail. Whether its dry and you're hiking, or it's snow covered and you already have skis on your feet, continue up the valley toward Bard's East Face. It may help to have a map or GPS app to consult from time-to-time.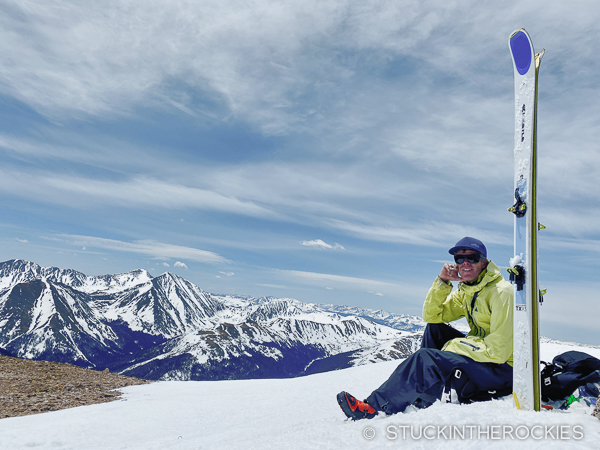 Eventually you'll break out of the trees and can see the route options up the broad bowl. Continue towards Bard Peak by any route you choose. You could gain a ridge that descends to the southeast or skin steeper route directly up to the summit. Anyway will work.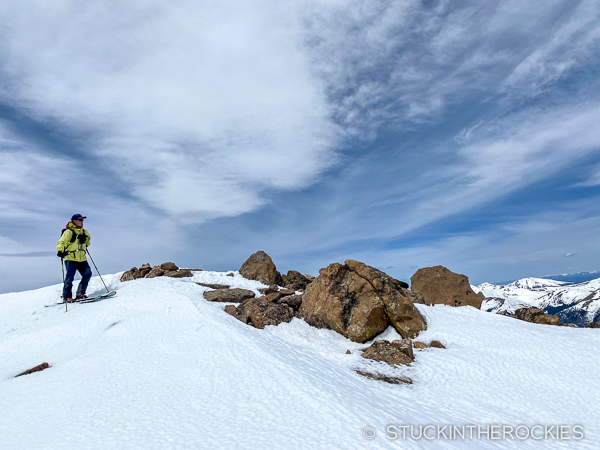 At the top you'll have some pretty cool views of several nearby 14ers– Gray's and Torrey's, Evans and Bierstadt– and good views of RMNP as well. And with any luck, when you start your descent down the east side you'll have some good snow.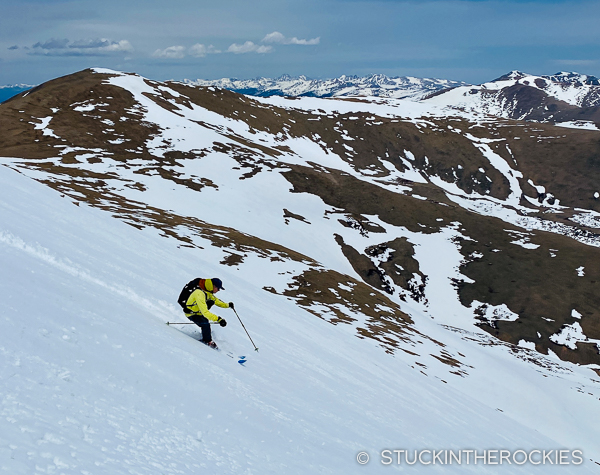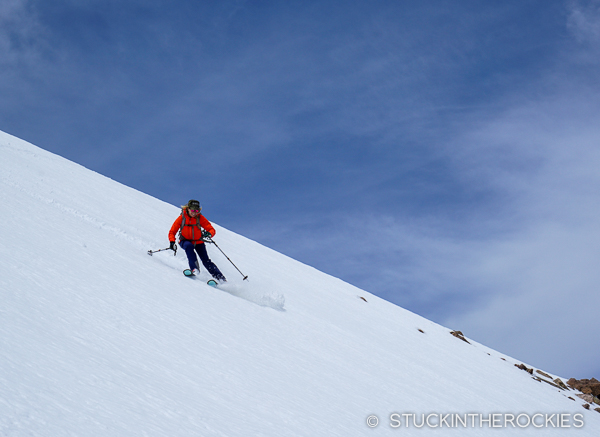 Retrace your route all the way back down to where you started and call it a good day.