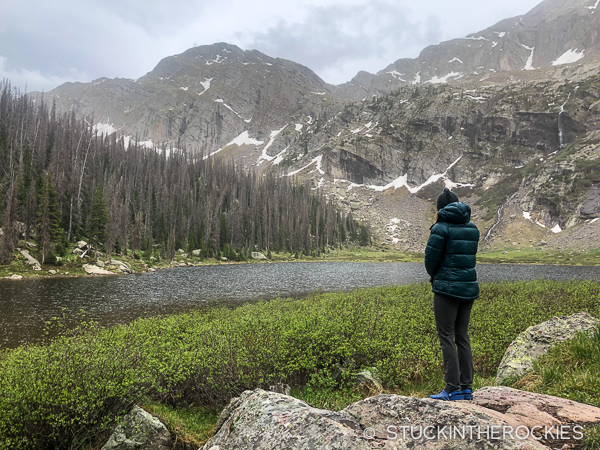 Most Coloradans know the Sangre de Cristo Mountains for the eight 14ers that reside within them. Sure, those summits are dramatic and any adventure in to see them is worthwhile. But if you look beyond that part of the range, you'll see dozens of other valleys and lakes to explore, and seemingly countless 13,000 foot summits that are seldom visited. We recently took the opportunity to venture into one such valley. We backpacked up to Rito Alto Lake.
To get to Rito Alto Lake you hike 7+ miles up Rito Alto Creek, which is several miles north of the town of Crestone, on the west side of the Sangres.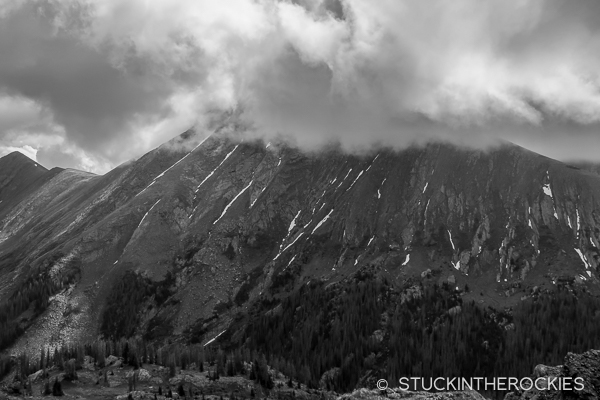 Standing tall above Rito Alto Lake is the aptly named Rito Alto Peak, 13,794 ft. It's a Colorado Bicentennial (among the tallest 200 summits) and the tallest mountain in the range north of the 14ers.
There are ample places to set up camp in the vicinity of the lake. It's a real pretty spot. And if you have some peak aspirations, there are a few good options from there.
If you continue up the Rito Alto Trail you'll eventually cross the spine of the Sangres at Hermit Pass. The other side of the pass is actually a 4wd jeep road so don't be surprised if you encounter a jeep or OHV up there. From the pass you can easily hike the ridge north to the summit of Rito Alto Peak or head south to Hermit Peak.

Back in 2011 Christy and I did that, it was fun. You can read about it here.
For this trip we had some other speaks in mind. A cross-country jaunt up from camp to the west allowed us to gain a ridge of unnamed 13ers. We topped out on one with the elevation 13,062 feet. It was at one end of a long ridge that wrapped around another high lake called Mas Alto Lake.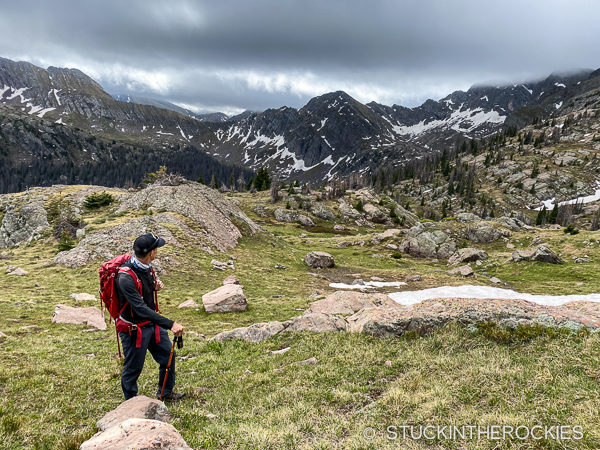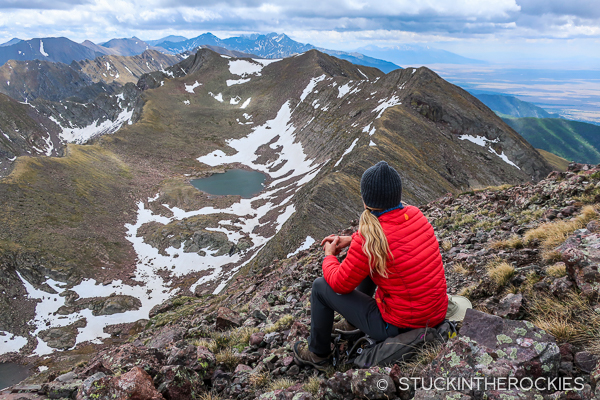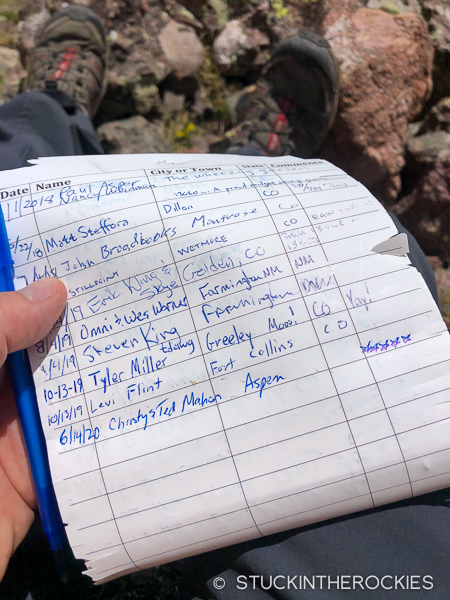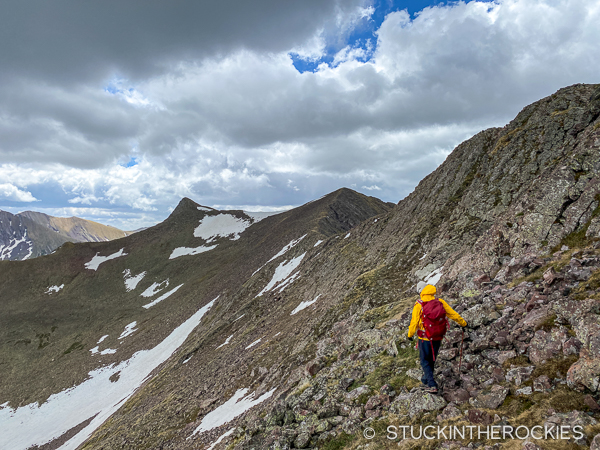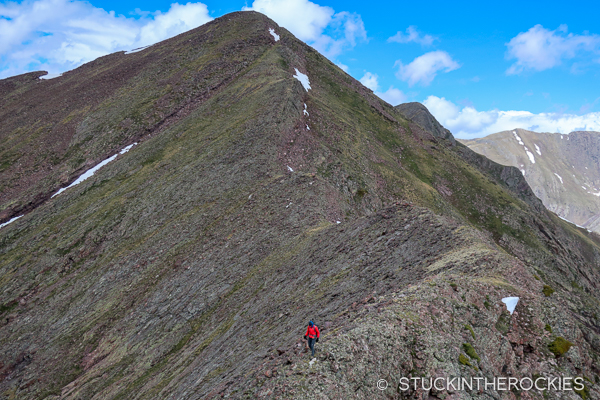 From UN13062 we hiked the ridge, tagging a couple more 13ers summits, all the way to UN13028. From there we descended grassy slopes to Mas Alto Lake for a little picnic, and made it back down to camp a short while after.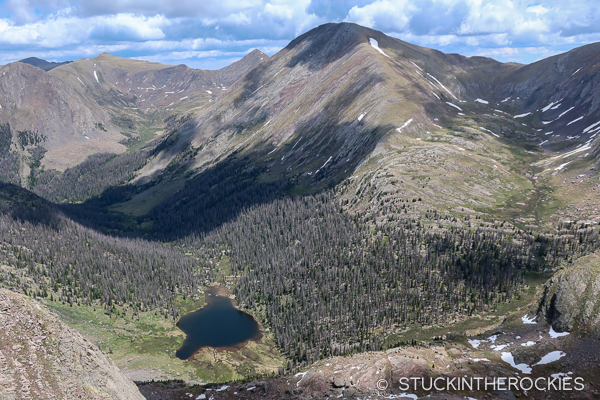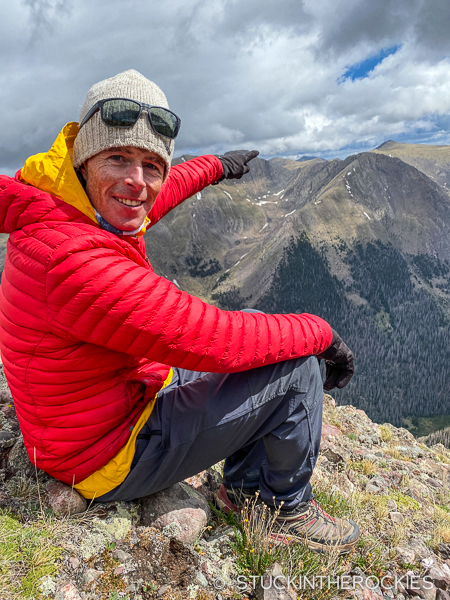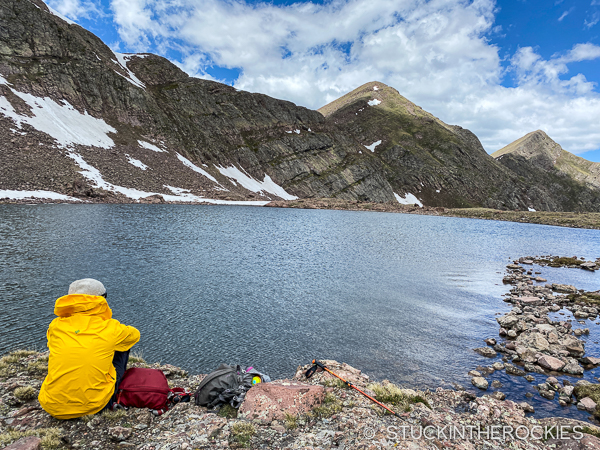 Rito Alto Lake is a great backpack destination and the surrounding peaks are worthy hikes. Go give it a look sometime.
And if you're looking for other backcountry adventure ideas in this region, you can go here for everything we've posted and tagged with the term "Sangres" on the blog.
Happy Trails