Thoughts on Aspen's 100-day pin and its community influence
For most of us, March 4 was just an ordinary Friday. But for a small group of devoted locals, it held more significance. It was the 100th day of the lift-served ski season. So if you were one of those skiers or riders who made turns on the hill every day this season, you earned your 100-day pin.
I love the fact that our community honors those who put in the effort to get up on the mountain nearly every day. Sure, plenty of people in the community don't need to be incentivized to log 100 days or more each season. But countless others do find motivation in the small souvenir. In my opinion, anything that inspires you to get up on the mountain is a good thing.
Logging that many days isn't easy. The lifts will run for 151 days this season, or about 21 weeks. That means you need to get on the mountain about five days a week. That's a real commitment, not unlike a job, and some locals treat it as such.
Tallying the days seems pretty straightforward. The ticketing department – who is in charge of the pin program – only needs to see that your pass was scanned 100 times. But despite that simple standard, there are some lively debates around town about what should count as a ski day. And like a lot of things in Aspen, not everyone agrees.
Should you have to log a minimum amount of vertical feet? Do you need to complete a certain number of runs to claim a day? Does uphilling count?
To me, it's pretty clear. The wording on the pin is simple. It contains three small bits of information: "100 Days," the year, and the words "Aspen Snowmass."
Nowhere does the pin mention doing complete top-to-bottoms or some arbitrary amount of vertical feet. Nor does it say you must ride chairlifts. It's my belief that each day you get on the snow on one of the four Aspen Snowmass ski areas— no matter how you do it— counts towards your tally and your 100-day pin.
A single lap on Village Express or the T-Bowl Chair? I say count it. Sure, you could do better, but you made your way to the mountain, got up on the hill, and made some turns. That's a day in my book.
Do you skin up the ski area, busting your hump to get up the mountain under your own power and ski back down? Count it. Scan your pass at the bottom. You were on the resort and arguably put in more effort than someone riding lifts.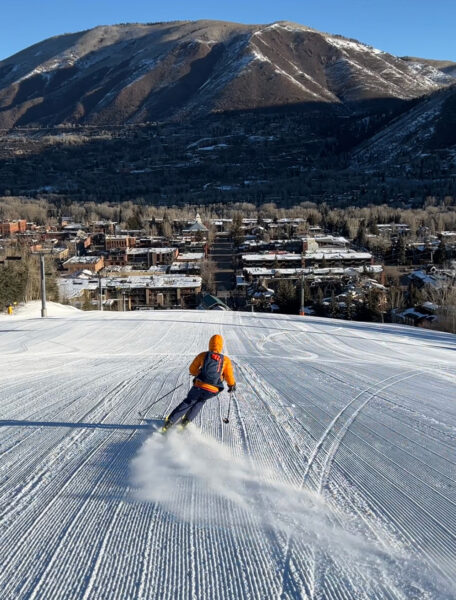 Are you an employee working on the mountain? Do you ski or ride to and from a restaurant or a shift as a liftie? Count it. Do you work patrol, ski school, or other mountain ops? You're on the snow, in your gear, and out in the elements all day long. That absolutely counts.
Following this line of thinking further, "100 days of Aspen Snowmass" suggests that a hut trip out of Ashcroft doesn't count. Backcountry skiing in Marble also shouldn't factor into the tally for your pin. Nordic skiing up to Maroon Lake? Sorry, I have to say no. It's essential that the day is spent on the four ski areas of Aspen Snowmass.
I regularly ski around 150 days a year when I count all of my pre-season skinning, backcountry days, hut trips, spring ski mountaineering, etc. Most years, I come up shy of 100 days on the ski areas because I'm often on skis somewhere else.
I'm OK with that. It's not that big of a deal. It's just a little pin, right?
Unfortunately, some take the pin more seriously than the Aspen Snowmass tickets department initially intended. Ask any lift attendant who staffs the gates and they can point to questionable practices they've witnessed. They'll tell you that, on occasion, a person in plain clothes without any ski equipment will approach the turnstile, scan their pass, and just walk away.
I wish it weren't the case, but pin fraud is real. It's disappointing to learn that some in town cheat on this small local tradition. But it comes as no surprise to me that this type of sociopath exists in the Aspen community. I guess they think it'll get them some local credibility?
Despite that very small group, there are a lot of locals who will claim their pin fair and square. My friend at one ticket office tells me that around 1,300 pins are ordered annually and that 1,000 might be issued each season. That's a pretty good percentage considering the number of locals we have in the valley.
Each mountain has its own set of committed, 100-day skiers and riders. The Snowmass community nets a good share of the pins, as do the Aspen Mountain gondola-lapping locals, my friend told me. But there are also smaller factions that log most of their days in the lesser-traveled corners of Aspen Snowmass. There are Tiehack regulars, the Highland Bowl die-hards, some that only ski Lift 1A, and of course, a growing uphilling crowd.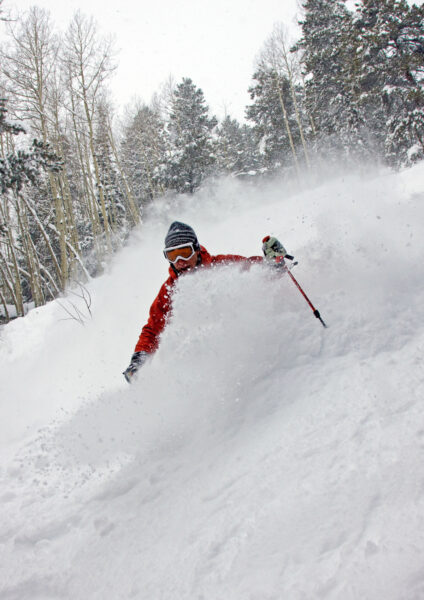 Let's not forget the army of on-mountain employees— operations staff, ski patrol, and instructors, all of whom are on the mountain every day, all season long.
I don't have my 100-day pin as of yet. It's never a given that I get one, and I don't hit the mark most seasons. But I am on track for one this spring. If I do get one, it will serve as a reaffirmation that nearly three decades after I first arrived in the valley, I'm still as devoted to skiing as ever.
And that's what's cool about it. The mountain and the opportunity to ski drew many of us here in the first place. The pin motivates the community to get up on the hill, where we're connected to the outdoors and are reminded of the joy we get everyday we're on the snow.
It can also serve as a memento of a great season in the past – a period when we were fit and fired up, or of an epic snow year.
Whether or not you get one each year isn't even the point. It's the inspiration it provides to us all, the reminder that we live in a ski town and when it's winter, we ski. Who would have ever thought a little less-than-one-inch round trinket could be so powerful?