Route options for your summer hike from Aspen to Crested Butte.

Christy descends to Copper Lake from East Maroon Pass, through flurrying snow and graupel. Forty-one miles, 9,600 feet of gain, with a high point of 12,900 feet over three passes and four valleys– that counts as a pretty long day in my book. Our friend Tim always tells Christy and I we're "masters of the long day." I guess in a relative sense experience does lend itself to smooth adventures,...

More specifically, Conundrum Creek trail up to Triangle Pass, down to Copper Lake, up to East Maroon Pass and down East Maroon Creek. The route can actually be completed in either direction, in our case Todd Clark, Christy and I began the day at the Conundrum Creek Trailhead (8800 ft.) and ran most of the popular trail up 8 miles or so to the famous hot springs (11,200 ft.) that bear the trails name. FYI, the lowest...
Recent Posts
About Christy & Ted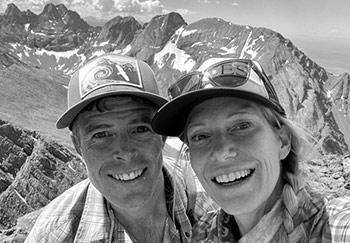 We met in Aspen in 2000 and have been happily
stuck in the rockies
ever since, getting out in the mountains every day we can, in every season and by all means possible.
Read More
Categories
Search