Skiing the Dragon Egg Couloir on Mount Meeker. What an awesome line.

Spearhead. The North Ridge follows near the sun/shadow line in the photo. Click all pics to enlarge. Feeling as though we had done a good job taking advantage of what the Aspen area has to offer lately, and with plans forming for a climbing trip to Joshua Tree and Red Rocks this fall, we thought we'd change gears and hit the road for a little alpine climbing. So on Dirk's...

Sean skis by Chasm View. Don't fall through the notch. Route: North Face to Trough Couloir Team: Ted, Christy, Dirk Bockelmann, Sean Shean Longs was the best. If I had to pick one day that stuck out as my favorite to date, it would be Longs Peak. Winter snow on the steep North Face was part of it, success after an uncertain and very long day added something, but most...
Recent Posts
About Christy & Ted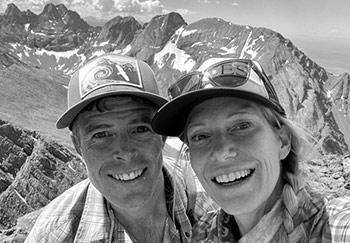 We met in Aspen in 2000 and have been happily
stuck in the rockies
ever since, getting out in the mountains every day we can, in every season and by all means possible.
Read More
Categories
Search