One of the best things about having some big goals on the horizon is getting prepared.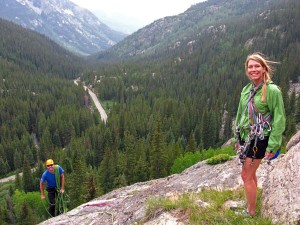 Friday evening we went up to Turkey Rock for an easy two pitches of rock climbing.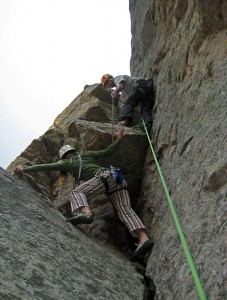 The next morning, we headed over the pass towards Twin Lakes to Monitor Rock where we had a climb of the 'Trooper Traverse' planned. At 5 pitches in length and with a crux difficulty rating of 5.8 it was great practice for future climbs we have planned.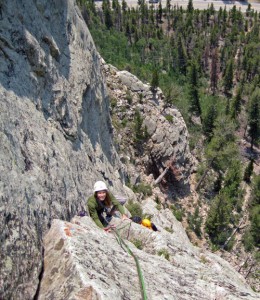 The route is believed to have been first climbed by 10th Mountain Division troops back around 1940, which is pretty cool to think about. We came across several old pitons which were possibly placed there by the WWII hard guys.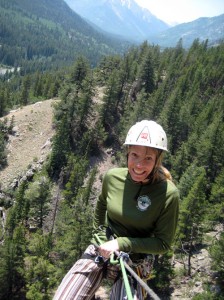 A short while later we were up top and rigging a 60 meter rappel. Those first few steps back off the ledge get you going no matter how long you've been doing it.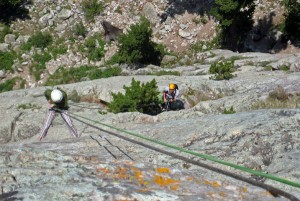 Dirk stands below protecting Christy with a fireman's belay. One more rappel and we were down, followed by lunch and some more difficult sport climbs. Monitor is a cool place, far enough from Aspen to feel like you've gotten out of town but near enough it doesn't feel like you've been driving all day.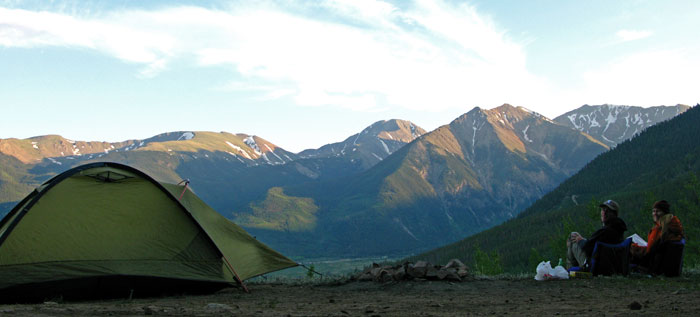 Afterwards, Dirk headed home and Christy and I pulled into a car camp overlooking Twin Lakes near the South Elbert Trailhead. With the Pikes Peak Marathon quickly approaching we thought we'd go for a run up the Mount Elbert trail in the morning. After sleeping in we were on the trail at 9:20. After a long spring of early predawn starts the casual pace was pretty nice.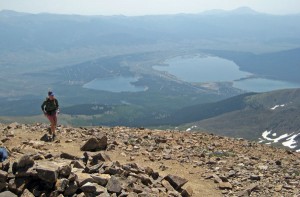 One hour and forty five minutes later Christy arrived at the summit of Colorado's highest peak, 14,433 ft., about 5.5 miles from the car. The haze from the wildfires west of here was thick.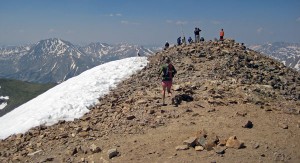 It was a pretty busy day on the trail, we estimated about 70 people on the mountain that morning. In the distance to the left you can see LaPlata Peak, where we were last weekend. The Ellingwood Ridge is the one that cuts (from right to left)in front of the snowy north face.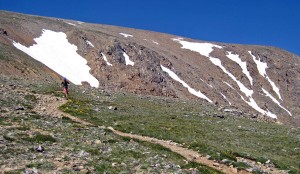 The descent was about 50 minutes. Here Christy runs down in front of the 'Box Creek Cirque', where we skied back in 2004. Old ski tracks were visible in the snow.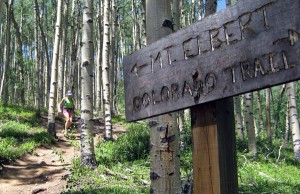 And out. The round trip takes between 2.5 and 3 hours and in another hour we were back in Aspen in time for work.
Elbert is perfect training for mountain races. It has high elevation, a moderate distance that isn't too punishing or hard to recover from, a steepness that is just barely runnable and all the bonuses of a Colorado summit day. Christy is already talking about when we can do it again.