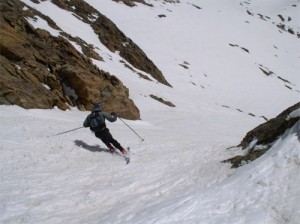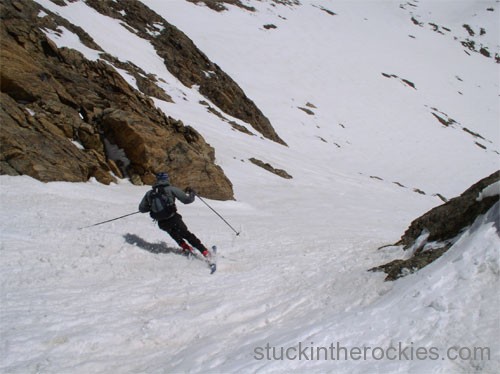 Route: Box Creek Cirque
Team: Christy, Ted, Dirk Bockelmann
With a perfect weather forecast for the next few days, Christy and I went directly from Mt. Bierstadt to Mt. Elbert. We met up with Dirk and Sable at the Mt. Elbert trailhead, near the Lakeview Campground. Some comfy car camping with a big fire made for an easy night and following morning. We were up and out of camp around dawn and made our way up the summer trail, first with skis racked on our packs, until snowline where we skinned on frozen snow all the way to the summit.
Elbert has a tendency to drag on in any season, probably because it has the most vertical from treeline to summit and those few extra hundred vertical feet are noticeable. We arrived at a windy summit about three and a half hours after leaving camp, quickly transitioned and headed down the ridge to the top of the Box Creek Cirque. Protected from the winds, the snow in the couloirs had softened considerably, it looked like our timing was just right. After reaching the lake below we contoured over the ridge to our east and skied perfect spring softened corn down to the end of the snow, finishing on foot. This day was as smooth and straightforward as these ski trips get.
Dirk and Sable had to return to Aspen, the long way, as Independence Pass was closed. Christy and I drove south to North Cottonwood Creek TH and headed into Horn Fork Basin that afternoon to camp and try for Harvard & Columbia the next day.