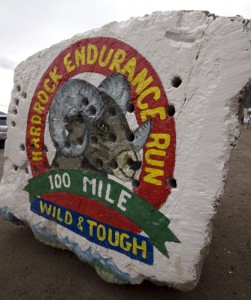 The Hardrock 100 starts at 6 am friday and though my feet are glad to miss this one, I must admit feeling a bit bummed that I won't be there. The results of the February lottery had me at 40th on the waitlist behind 140 accepted runners, and I thought it to be a long shot that some 30% of the accepted field would drop.
I was wrong. Yesterday I moved up to 2nd on the list(last year 6 waitlisters got in the day before the race), but with the planning needed and having aggravated an old foot injury last week I'll have to sit this one out and shoot for next year. Who knows, with all the snow still out there it could be a good one to miss.
From the sidelines (laptop) I will watch it unfold and with Scott Jurek and Karl Meltzer not running, who hold the five fastest course times, there could be some real competition for the new #1. To track the progress over the weekend you can go to the Hardrock Live! page. Pick a few names and see how they fare. I'll be watching Kyle Skaggs who could pull in first, Kirk Apt who has finished the course 13 or 14 times, John Dewalt who has done it more than 10 times and is 72 years old and Aspen friend Devin Gardiner. Good luck guys.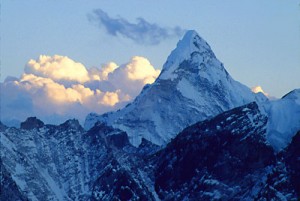 Enough about that, time to get excited about the next big trip! This October Christy, Dirk and I are headed to Nepal and the Khumbu Valley for an attempt of Ama Dablam.  Considered one of the most beautiful mountains in the world, the one month expedition has it all- technical rock and ice, high camps, altitude and all the trimmings that come along with a trek through the Everest region.
For right now it means two things- loading up on new gear and planning training & prep mini adventures around here with "Ama" in mind. Fun, fun, fun.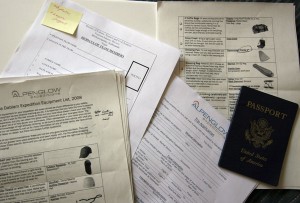 Even filling out the paperwork is exciting. More "training & prep" to come.