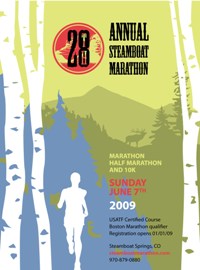 Well at least that's my strategy when Christy and I line up at the start for the Steamboat Marathon this Sunday. I don't have a choice. After a great spring almost entirely dedicated to skiing, and with the approaching calendar stacked with some pretty tough running races– the Bighorn 50 is in two weeks and Hardrock is a few weeks later just to name two– I need to get some miles under my belt. I could run on my own around here but sometimes it's more fun to throw down for an official race, to get more out of the standard training experience (as well as another T-shirt).  It will be my third time lining up at this race with the mantra "start out slow, then taper*," acknowledging the all-but-certain outcome of a slow finish time.
That should explain why I'm talking about this race before it happens, rather than the standard post-event debrief. This way I don't have to discuss how it went afterwards and defend the inevitable slow time and potential finish behind Christy.
It also allows me to plug a slideshow I have in Steamboat the night before. The presentation, on our trip to Ama Dablam last fall, is being hosted by One Steamboat Place at 6pm at the One Steamboat Place Hospitality Lounge, 435 Lincoln Avenue. If you're around on Saturday, come on by, it should be fun. At least more fun than Sunday.
*quote credit/race strategy first overheard at the start line of the 2005 Snowmass Winter Wild Race, from John Doyle.