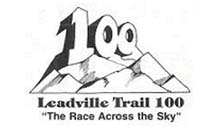 **Update- She's finished, around 25:40 smiling, 7th woman overall.
**Update- Christy's doing great, left Twin Lakes Aid station at 6:10 pm, 40 miles to go–ahead of schedule!!
On a late August morning back in 2002, Christy and I trudged up the road towards Leadville. After tagging along with my friend and his crew for much of the day, my friend dropped from the race, leaving me without support. Christy was quickly promoted to crew captain and lead pacer, and pulled me along three separate legs through the night, all the way to the finish. As she neared her 30th mile on the course and I approached my 100th, after we both missed a nights sleep and as the finish line came into sight, the conversation went something like this:
"You can't do this [expletive] thing again!"
To which I replied,"I know, I know. I won't. I promise…why would I?"
Fast forward to 2009. We're both in Leadville, the aforementioned conversation has been all but forgotten and Christy's registered to run. Funny how things work sometimes. I'll be crewing and pacing with sister Jen and Kathy Fry and if it all goes according to plan then Jen will be escorting Christy for the last 20 miles to the finish sometime before dawn. If there's any noteworthy dialogue concerning more swear offs or promises of the future, I'll be sure to pass it along.
Good luck.