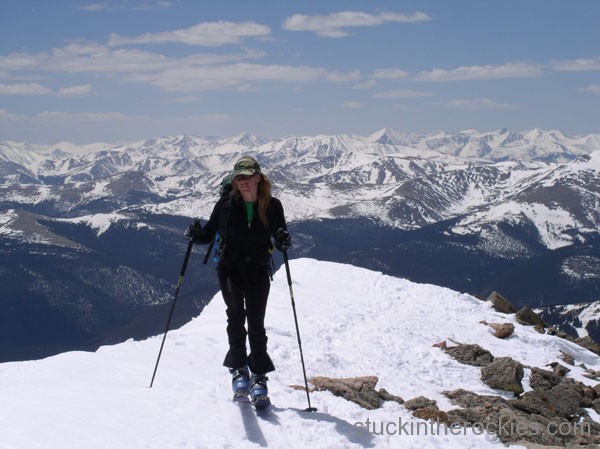 Route: West Flank
Team: Christy, Ted
We decided on Bierstadt.
The morning before we were in Chamonix. After skiing the Haute Route (Chamonix to Zermatt) with friends May Eynon, Jon Gibans, Katie Monahan, and Dick and Paulina Jackson, we decided to end the trip early when bad weather ruled out a ski attempt of Mont Blanc. With Christy already having cleared the vacation time at work we wanted to use the four days we lost in the Alps.
We took what clean clothes we had and threw it in the back of the truck, along with camping gear, an old pair of skis since my pair didn't make a connecting flight, and left for Bierstadt the next morning. The five day forecast looked good so we would hit Bierstadt, then meet Dirk for Elbert, and then figure out what else might be good.
It's an easy drive to Guanella Pass. Out of the car and skinning, we made it all the way to the summit in two hours or so. With a high trailhead and moderate angle, it's a warmup compared to many 14ers. I had skied it solo in 2000, Christy still needed the summit.
The snow was of the typical windblown variety up top. Once through the initial rocky summit area, the snow softened a bit and it was straightforward back to the car. It was a perfect peak for our transition day.
And we were off to Leadville and Mount Elbert.