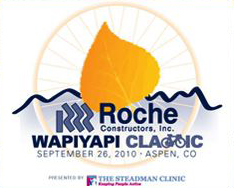 Camp Wapiyapi, a Colorado based non-profit "offering hope and support to families with childhood cancer" needs our help. On Sunday September 26th, in what will hopefully become an annual event, the Wapiyapi Classic charity bike ride will take place here in Aspen to do just that.
There are two ways you can help. For the more active supporter, you can register to ride in the event, on either the 25 mile or 50 mile course. Registration will get you a Wapiyapi bike jersey and a spot in the field of 1,000 riders supporting the cause. But the kids need more than just a good turnout, so they also ask that each rider raise $200. After registering for the race, a donation page will be setup in your name which you can easily pass around via email or Facebook to help you with the fund raising. And let's face it, $200 isn't all that much. Which brings me to the other way to help.
If you're not around for the ride, you don't have a bike, or just can't get going by 8am on a cool Sunday morning in September, you can help out by donating to a rider. And as you may have already guessed, I'll be riding and can use your support.
So those are two options- sign up for the ride and raise money to help families cope with childhood cancer, or donate to Camp Wapiyapi through the donation page below. Even a little bit helps.
Thanks for your support,
Ted