Lining up for the Lake City Alpine 50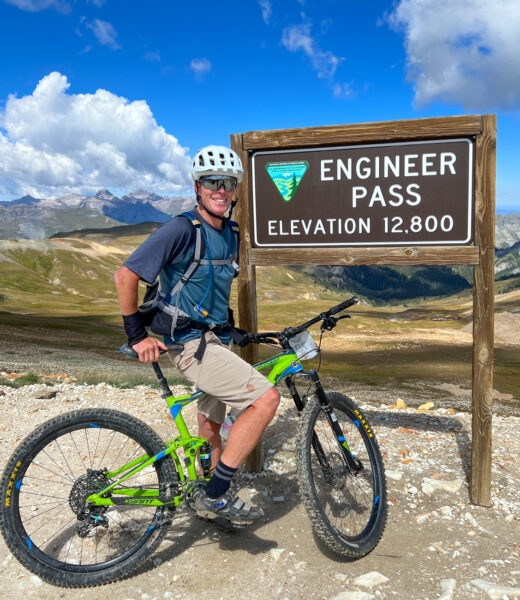 We hit the road and headed to the San Juans for a different type of adventure. The Lake City Alpine 50 mountain bike race was last weekend, and sticking with our rule to say yes to new things, my wife Christy and I figured it would be worth checking out.
The 50-mile race take place on the popular Alpine Loop, a rugged 4wd route connecting the mountain towns of Lake City, Ouray and Silverton via old mining roads and high passes. The loop course begins and ends in the small town of Lake City, crossing two high passes along the way.
It starts at the Lake City Town Park and heads up towards Cinnamon Pass. Riders cover the first 15 miles quickly, spinning up the valley along Lake San Cristobal and the Lake Fork of the Gunnison River. After that extended warm-up, the real climbing starts, and the course gains 3,000 vertical feet over the next 10 miles to the top of the pass.
The uphill grind in your granny gear is made more challenging due to the fact that Cinnamon Pass tops out at 12,640 feet.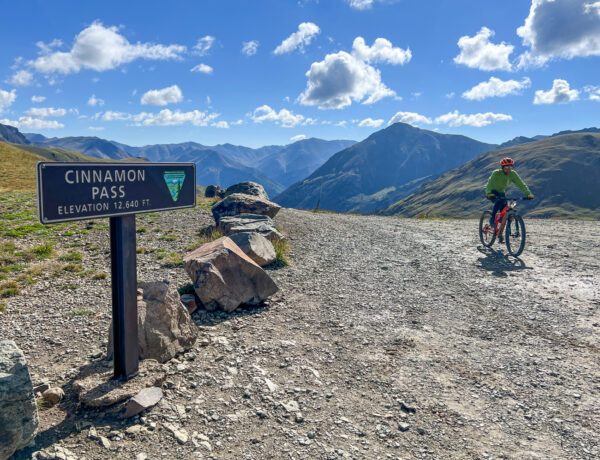 After a quick refill of your bottles at the race's single aid station, you descend the Silverton side of the pass towards Animas Forks. Don't count on this section offering much recovery. You're following an old mining road that was built to be direct. It isn't a buffed-out, flowing route like today's purpose-built trails.
If anything, the steepness can put racers on the defensive. And the rocky surface is so unforgiving in places you might wonder if you mistakenly had your suspension locked out.
After 2 miles of steep descent, you reach the valley floor and begin the second, long grind up to Engineer Pass. By this point in the race, there are very few surprises. Five more miles of granny-gear climbs await, with some rocky sections that pitch up so steeply you'll probably find it easier to walk your bike.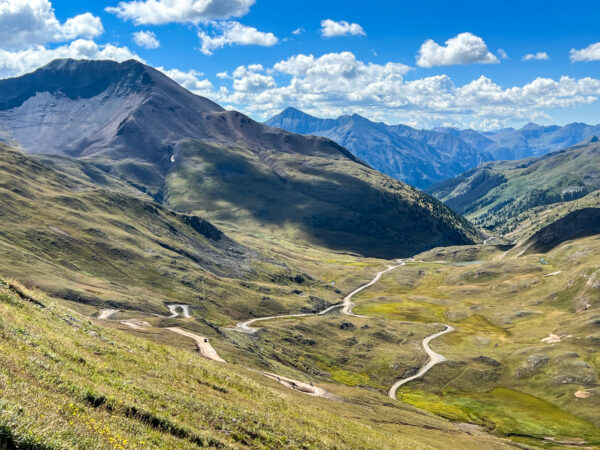 Eventually, you reach Engineer Pass, around mile 31. At 12,800 feet, it's the highest point on the course.
All that remains is a nearly 19-mile downhill back to Lake City. But like the descent from Cinnamon Pass, it's also quite technical at first. You can ride fast, but plenty of hazards await. It's very rocky, and if you lose your line, you might find yourself in the eroded jeep track, which doesn't always end well.
But if you can barrel down the mining road safely and not get a flat or rattle loose some other parts of your bike, you'll eventually make it back to the Lake City Town Park and the finish line.
We had a great day. The course was as beautiful as it was challenging. And we lucked out with good weather during an otherwise rainy summer.
The single criticism of the race we heard mentioned beforehand was that the route is public and shared with the off-road crowd. But that wasn't a big issue. We encountered several OHVs and jeeps, but everyone shared the trail and was accommodative to passing when warranted.
Christy and I felt there was a lot to love about the event. We've spent decades traveling around to participate in various small, local races. And we've identified some characteristics that the best events share that make them worthy of returning to year after year.
First and foremost, they should involve the local community. It always feels better when an event has a connection to a local charity or nonprofit. In this case, the race benefits the Lake Fork Valley Conservancy, a nonprofit that works to facilitate environmental sustainability in the Lake Fork of the Gunnison River Valley.
It's also cool when locals rally to train and finish the race alongside everyone else. And we think it says a lot when local businesses and shops also buy into the event — whether in raffle prizes, swag or as sponsors. This race had all of that.
We also find it's more fun when the finish ceremony does more than acknowledge the fastest individuals. Everyone puts in an effort out on the course, and it's a better experience when a more diverse group of finishers are honored, not just the frontrunners.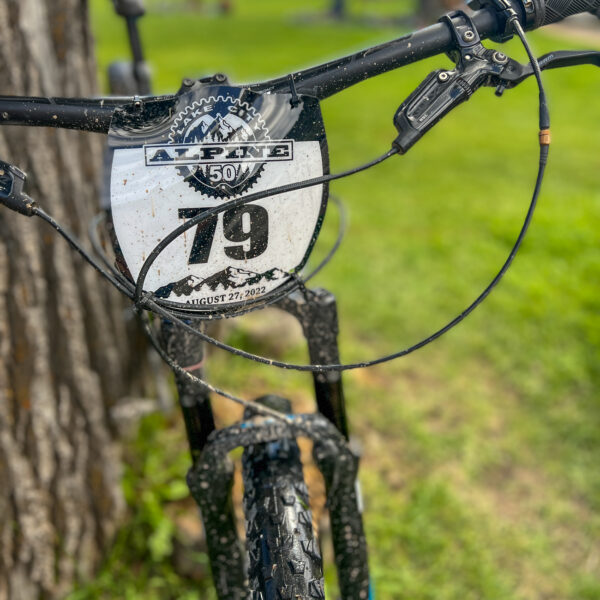 In this case, the organizers awarded the top five men and women, as they should. They also awarded a "fastest town" title based on where the top finishers came from — in this case, Colorado Springs. The year before, it was Durango. But beyond that, they had countless other creative prizes.
For example, they awarded the racer who faced the most significant struggle (a persistent flat tire) and a good Samaritan prize to the passing rider who helped. There was an award for the best-dressed rider, and one for the finisher who traveled the farthest distance to get to the race. There was even a prize for the finisher who was "all smiles" all day. It should come as no surprise that Christy came home with that one.
The best events often have a race organization that makes personal connections with the participants. During the event lead-up and throughout the weekend, the organizers went out of their way to say hello, help with questions and strike up random conversations with us. By the time the weekend wrapped up, we felt like we had made new friends.
The Lake City Alpine 50 hit all of the important points. And for us, that's the difference between an event we return to in following years and a race that might be described as one and done.
For me, there was also an added personal significance to the day. After two decades of running hundreds of miles of races each summer, I was sidelined by physical problems a few years ago and abruptly stopped.
Long story short, I had a failing hip joint due to cartilage loss, and I needed to have it replaced. There was a thought that I might never run again or participate in other high-level athletic activities. But I've since learned that concern was a bit exaggerated. Almost two years out, I'm back to normal and feeling great.
The Lake City Alpine 50 represented the first time I had lined up for a race in three years. While my overall place and time on the clock might not show it, being there was a significant victory for me.
Immediately after the race finished, Christy and I both found ourselves thinking about how to improve our times next year. So that tells me we'll be there in 2023. And if you're looking for a mountain bike race to put on your calendar, you should too!