A 2018 spring ski of the East Slopes of Mount Democrat.

Route: Southeast Face Team: Christy, Lyndsay Meyer The Kite Lake trailhead Ascending the thinly covered route. Not much avy risk here today. Lyndsay Christy The view back towards Bross. On the summit. Ready to ski. Maybe a little corn on the descent? Watch those willows!

Route: West Face Team: Ted, Jared Ettlinger Jared was the next friend I would cajole into skiing with me. We drove to Democrat, on the Fremont Pass side. It had been nice spring weather lately, that is until the night before, we figured four inches of new snow shouldn't slow us down too much. Wrong. The new snow got deeper and deeper the higher we went. Opting for skins at...
Recent Posts
About Christy & Ted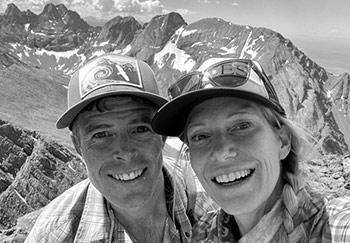 We met in Aspen in 2000 and have been happily
stuck in the rockies
ever since, getting out in the mountains every day we can, in every season and by all means possible.
Read More
Categories
Search