Route: East Ridge
Team: Ted, Christy
Christy and I had just started hanging out and I figured why ease into it? Let's cut to the chase. Let's do something fun and see if she's into it.
Closing day on Aspen Mountain brought a big spring storm. We had already made plans to try to ski Quandary Peak the following day, and some new snow made it sound more interesting. We made our way up the East Ridge, chatting, still in the early "getting to know each other" phase of a relationship. Wave after wave of spring weather blew through, and though it produced little precipitation, the whiteout conditions were disorienting. We both shrugged it off. This was a first date of sorts, and we both wanted to make a good impression, so being cool with the conditions– that is to say not sounding the alarm, or a desire to turn around– seemed like the right approach to take. She followed me all the way through the wind and clouds to the summit, and neither of us talked much about the new snow and potential for avalanche.
It was my goal to ski the Cristo Couloir. Of course there was a foot or so of new spring snow on the frozen south facing crust underneath, with some high winds gusting and a euro-style whiteout. In avalanche-speak, there were several red flags. But sometimes these things are only thought about in hindsight. I was more concerned with how the first date was going, I willingly ignored the obvious warning signs.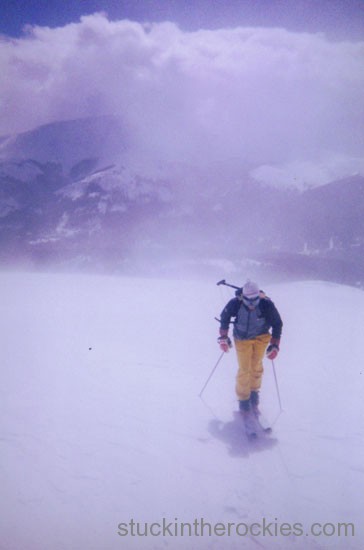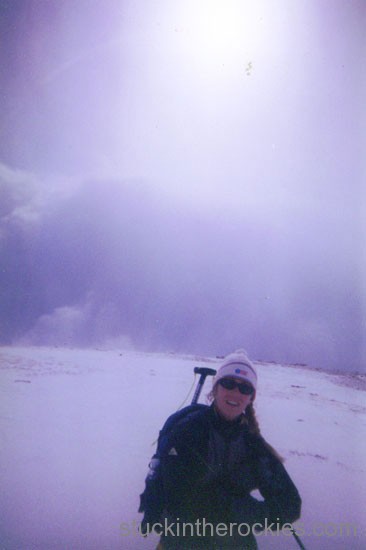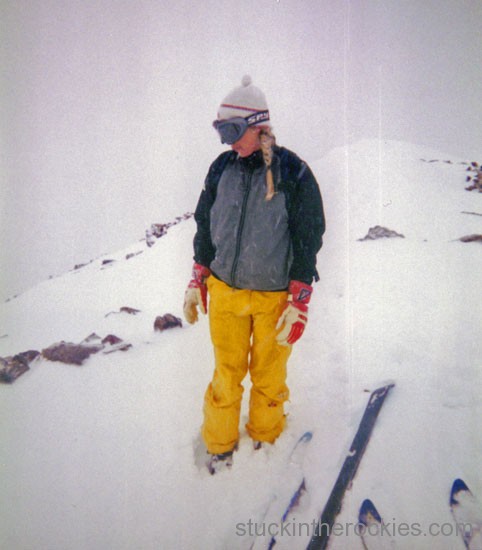 As Christy was getting into her tele bindings I skied over towards the top of the couloir, to take a look and make a ski cut. Despite the aforementioned bravado, we had actually discussed the weather and snow conditions during the morning drive and determined the slope to be a likely avalanche risk. So as I made out a slight convex rollover in the slope, I skied to it and stopped. Right at my feet the slope broke off and silently disappeared into the whiteout below. The fracture and subsequent crown ran in front and behind me until out of sight, from right between my feet, about 10-12 inches deep. Without a doubt it ran the entire 3000 feet down to the reservoir below.
Christy was still above me and could tell something happened, I asked her to stay put as I kick-turned and traversed back to the East Ridge.
I told her what happened and very plainly suggested to her that we shouldn't ski the Cristo Couloir. She obviously agreed. We instead had to retrace our route of ascent back down the East Ridge. So that's what we did, blinded at times by the whiteout conditions, down to the truck.
When I hear people talking about how a first date didn't go so well, I always tell how this one almost unfolded.