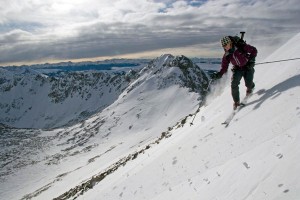 Date: Jan. 20, 2007
Team: Christy, Ted
Route: South Face
Chris Davenport just skied Longs Peak, thus completing his goal of skiing all the Colorado 14ers in a year. It was really cool that he pulled that off. Feeling a little inspired, and since it was Saturday, Christy and I decided we wanted to go ski something. Of course it was January, so there weren't too many options, which is why Fletcher Mountain came up.
We made the drive to the Blue Lakes Trailhead (the same as for Quandary Peak), and then started up the valley for Fletcher– it's just west of Quandary. Once a little past the dam the view of Fletcher opened up and it wasn't pretty. The early season wasn't that great for snow in 2007, and Fletcher showed it. We could climb and ski it, but there were big patches of scree and rocks still showing. Oh well.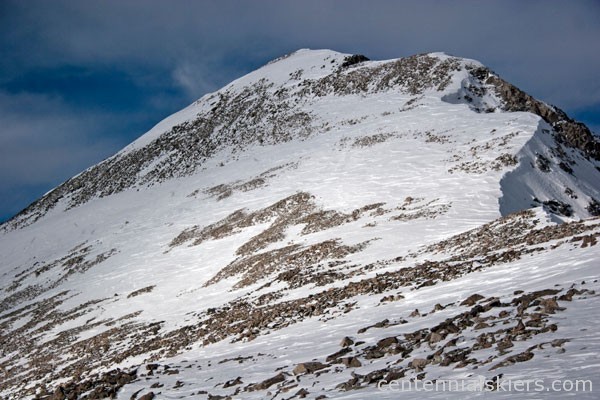 The route heads up to the saddle between the two high summits, and crampons were needed on the hard, windpacked, sastrugi. The climb from the saddle was easy though, and we got up top in some pretty cool, early winter afternoon light. Other peaks nearby actually looked better for skiing– Drift Peak in particular– but all we could do is take a few pics and take note for future visits.
With skis on, we carefully picked our way down to the valley floor, trying our best not to do any damage to our skis. At least in Colorado, ski mountaineering is often a matter of taking the good with the bad, and it's snow like we found this day that can serve as the "low bar" for which we compare other ski descents. On the positive side, the weather was actually really nice and we made it up and down safely, and better yet, when we got back to Aspen that night, there was a big 14er wrap-up party at the Sky Hotel Bar for Dav, which was a really cool way to finish the day.
Some photos from the day: