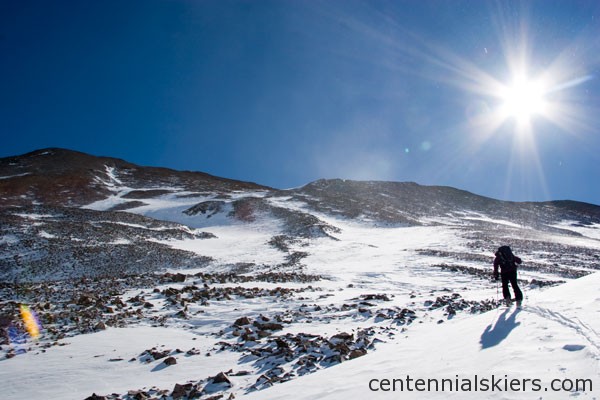 Date: Feb. 9, 2008
Team: Christy, Ted
Route: East Face
For high peaks in the Sawatch, the East Face couloirs of Cronin Peak are a worthy goal.
We made the easy ski up the Baldwin Creek Jeep Road commonly used to access Antero, and the headed west into the basin where easy access to Cronin Peak's West Ridge can be accessed. It was somewhat mellow skinning most of the way, until the combination of high winds (typical for the Southern Sawatch) and firm sastrugi relegated us to hiking.
We reached the summit on the windy February day, which was also my half birthday. After consulting a recon photo of the snow coverage, we dropped into Cronins' east side, skiing some carton-like crust to the valley floor and back down the jeep road to the truck.