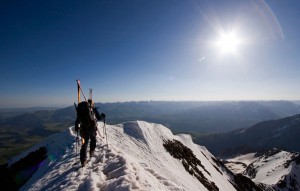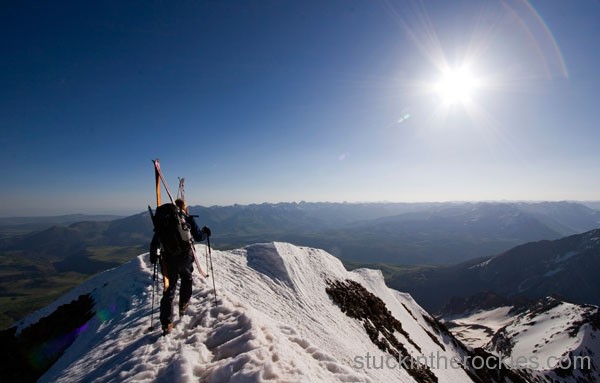 Route: Northeast Face
Team: Ted, Christy, Dirk Bockelmann
So long as work isn't in the way, Dirk and Christy have never turned down the offer to ski a 14er. It had been two weeks since Christy and I had skied down in the Chicago Basin and although we were wearing shorts in Aspen now, our friend in Telluride insisted we could still ski the classic Northeast Face of Wilson Peak.
I was here with Dirk back in 2004 where a big downclimb from the summit was required to get down the Northwest Face. I knew I would have to return to get a true summit ski descent. We drove to Telluride and camped at the Silver Pick Trailhead the night before.
In the dark I marked the car with my GPS and we walked up the road. By treeline we were skinning and before long, the sky was lit and we were switching to crampons and booting up the NW side. Arrival at the summit brought the blazing June sun, it was a beautiful morning. The Northeast Face drops precipitously and some quick recon was needed this late in spring to find the continuous line off the summit.
We found it, looking similar to the one Dav and friends skied the year before. We descended the ridge to the east and then made a VERY careful side-slip back towards the center of the face, where the couloir was skiable. Once we all passed through that crux there was some relief.
The skiing was fun, on old corn snow. Lower down we had to traverse far around the lower cliffband (usually skiable), stopping in the warm sun for a lunch break. We hadn't been here before and we were a long way from the car, and the GPS lead us right to it.
Back in shorts, in Telluride, we met our friend Chris, for ruebens and tots at the Cornerhouse— what a day. I've learned these peak redos are good not only for completing the proper line or getting the official summit ski, but sometimes you just get a better day.
So this wrapped up 2007 for us and at left only Capitol, Culebra, and Crestone for me to have skied them all.. Hopefully 2008 would be a good winter. Which peak would be first?