[This post was originally written for the Strafe Outerwear blog. You can read it here.]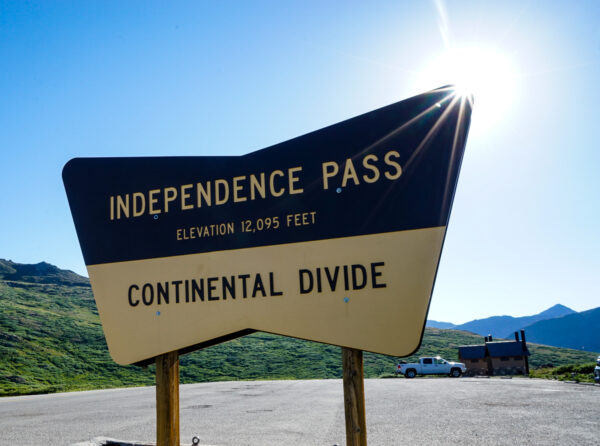 In the late 1800's, prospectors pioneered a route over a high pass from Leadville into the Roaring Fork Valley in search of mining fortunes. On July 4, 1879, silver was discovered and a mining town sprang up overnight. The town and the pass used to get there were named in honor of that date— Independence.
Now 150 years later there's not much silver coming out of the ground up at Independence, but there is a wealth of good spring skiing that can be reaped each spring by those willing to prospect for snow.
At 12,095 feet, Independence Pass is one of the highest paved crossings of the Continental Divide in the U.S. The road is closed in the winter, but around Memorial Day weekend each spring, the snow is plowed and the road is opened for the season.
Skiers can head up Independence Pass and get their last turns of the season. From easy valley tours up below the Geisslers and Independence Lake, to the steep couloirs of the Palisades, or longer lines from the 13,761 foot summit of Twining Peak (a.k.a. Blue), there's something for everyone.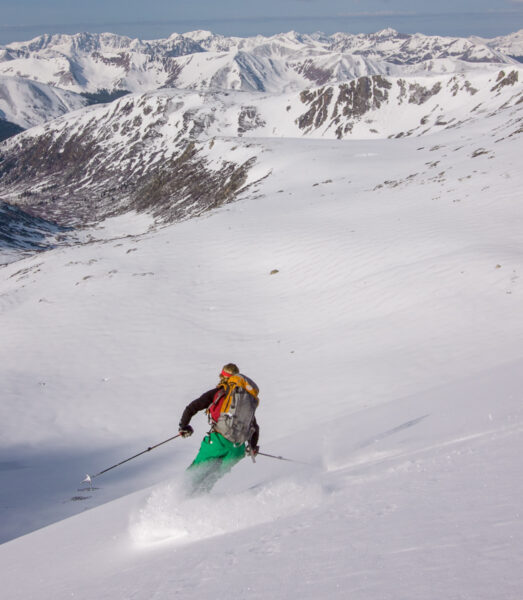 By making use of various summer trailheads, and arranging a second shuttle car on occasion (or having a willingness to put out your thumb and hitch a ride), there are tons of possibilities. Find a partner, pack the cooler and grab some flip-flops for afterwards, and head on up.
Below are some thoughts on skiing the Pass close to Aspen, arranged by the different trailheads and pullouts along the road. Please reference the satellite imagery at the bottom of this post for noted locations.
INDEPENDENCE PASS SPRING SKIING
When: Thursday before Memorial Day until the snow melts
Where: Independence Pass, Colorado
What: Human-powered and shuttle-supported spring backcountry skiing
IN THIS ARTICLE
Lower Lost Man Trailhead
Independence Ghost Town
Upper Lost Man Trailhead
Independence Pass Parking Lot
Bigger Adventures
Annotated Satellite Imagery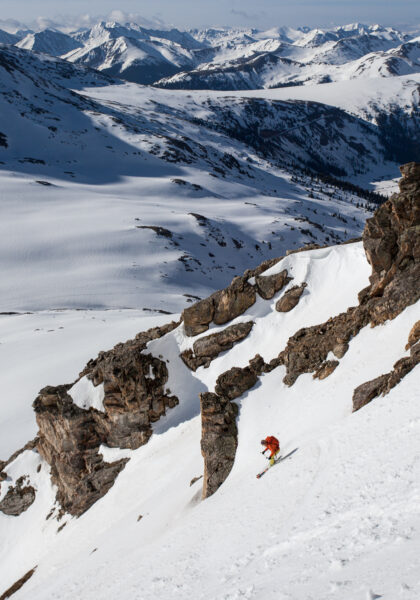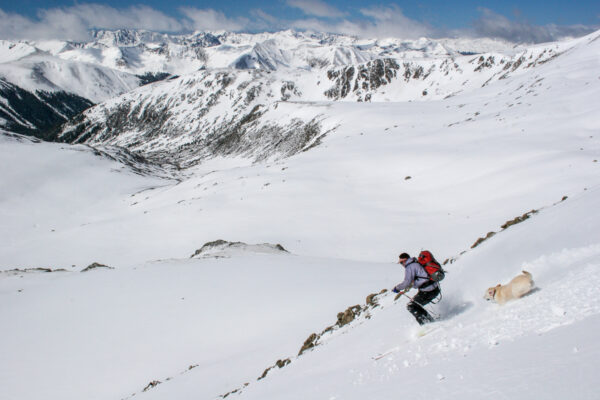 LOWER LOST MAN TRAILHEAD
39.12198, -106.62395; Google Maps
Access for: Williams Mountains, Lost Man Loop, Green Mountain
Use this low trailhead for out-and-back tours up to the Williams Mountains, or as an exit from longer tours starting at the Upper Lost Man Trailhead.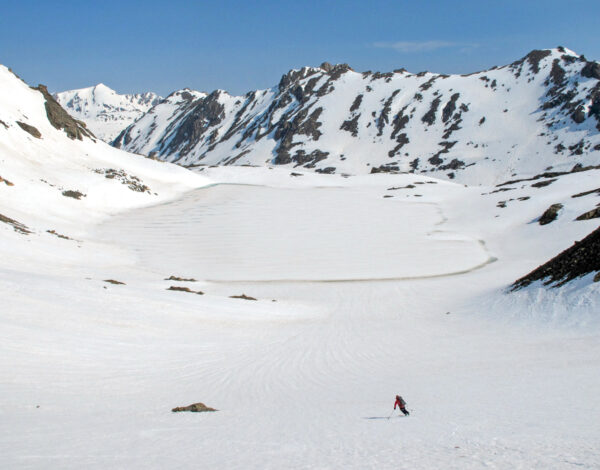 INDEPENDENCE GHOST TOWN
39.10677, -106.60359; Google Maps
Access for: Independence Mountain, 4th of July Bowl, Palisades
This is a series of pullouts starting near the the ghost town and heading up the valley for a couple of miles. They offer access to Green Mountain, and various northwest facing runs off Independence Mountain including Fourth of July Bowl. Park further up the road below Independence Creek to reach the Palisades and the East Face of Independence Mountain (a personal favorite).
These routes all involve crossing the Roaring Fork River (really more of a creek at this elevation) on the way in and out. There are no bridges so plan on having to scout for a good place to get across to keep your feet dry.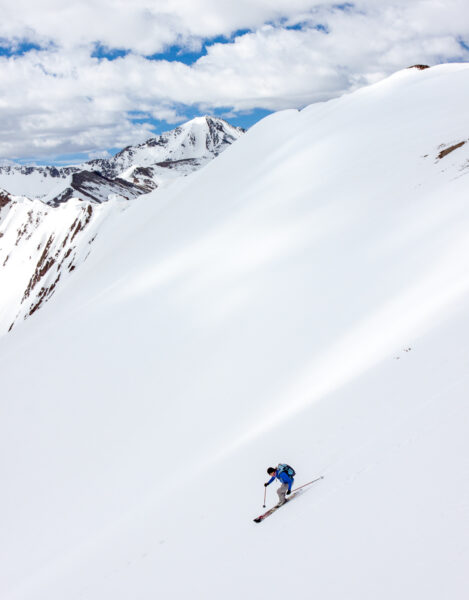 UPPER LOST MAN TRAILHEAD
39.12456, -106.58172; Google Maps
Access for: Linkins, Geisslers, Blarney, Twining, Williams Mountains
This trailhead is the most popular starting point for tours on the north side of the Pass, most of which don't require car shuttling. You can usually find really good corn snow on the east faces of the Geisslers, or the couloirs above Linkins Lake. You can also do a mellow valley ski (or even nordic crust ski) up to Independence Lake or Lost Man Pass.
For a longer adventure you can start at this trailhead and ski over Lost Man Pass to reach the Williams Mountains, or complete the "Lost Man Loop" and finish at the Lower Lost Man Trailhead. It's also a popular starting point for an out-and-back of the South Face of Twining Peak.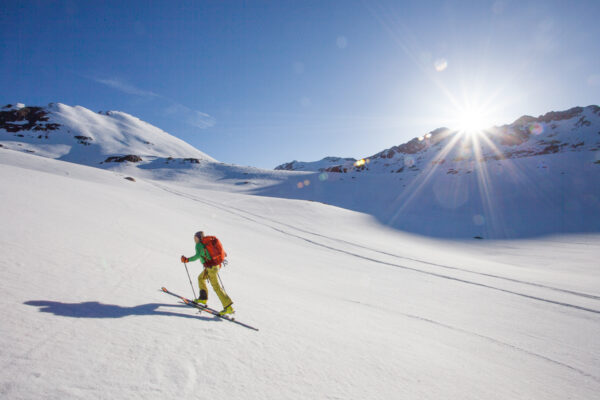 INDEPENDENCE PASS PARKING LOT
39.10846, -106.56396; Google Maps
Access for: Twin Gullies, Mountain Boy, Upper Lost Man basin, North Fork Lake Creek descents
From the 12,095 foot parking area, head north as an alternate way to reach Twining Peak, and Blarney, a 13er south of Twining. Both summits offer long, east facing descents down past Blue Lakes and into the North Fork of Lake Creek, finishing at the lower (third) hairpin.
Alternatively, you can head south from the parking area to access Mountain Boy, one of the "classic" Independence Pass ski lines. Ascend the long ridge and take your pick of east or north facing runs that lead down to the second hairpin.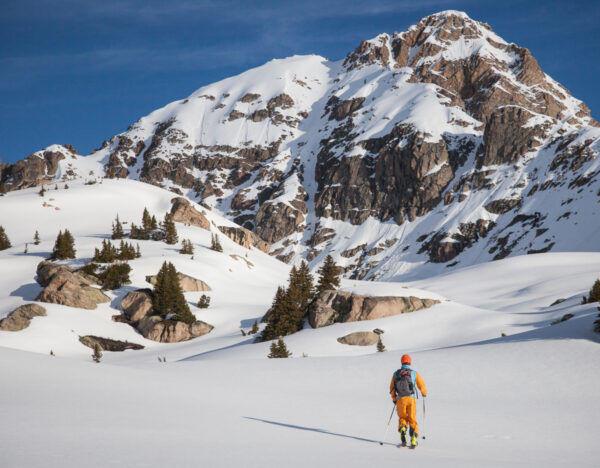 If it's later in the day and the snow is too soft on east aspects, or if you're looking for a second run for the day, head a short way up Mountain Boy Ridge and then traverse west to the Twin Gullies. These shorter, northwest facing lines descend back to Highway 82 above the Independence townsite. There is a river crossing involved.
These notes aren't enough by themselves to be able to plan a ski day up on Independence Pass. Find a map, locate some of the trailheads and mountains, consider the options, and make a plan. There's no better way to send off the ski season and welcome the arrival of summer than to spend a sunny spring day skiing one final time up on Independence Pass.