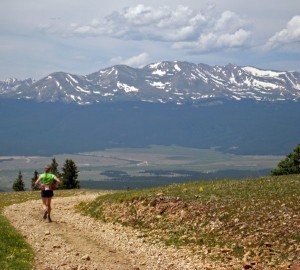 Sunday was the inaugural running of the Leadville Silver Rush 50 miler. Put together back in 2002 by the same people who conceived the insanely popular Leadville 100 bike and running races, the Silver Rush was initially held only as a bike race. Six years later, the out and back course that runs through the mine country east of town, up Iowa Gulch to the foot of Mount Sherman, around Ball Mountain and down to Stumptown (and back) was offered up as a trail race.
Christy's first 100 miler is only 6 weeks away (Wasatch Front 100), and this sounded like good training. Several weeks back I ruled it out of my calendar, I had expected to be too tired from Hardrock but since I never got off the waitlist and I was entered in the Wastach Front 100 as well, I was in for Sunday with her.
About 130 racers started up the steep Dutch Henri Hill at 6am. The hill start was designed to spread out the field of mountain bikers, and is a punishing start to a run. Once that was behind us, the course was really cool.
With no steep mountains to climb or passes to cross the course was quite fast. Unlike many mountain races that seem to aim for 'extreme' amounts vertical, this 50 mile course logged in at just under 8000 ft. of gain(2/3 of Lake City50) and because of that we guessed there was close to 40 miles of running or jogging. Of course the fact that all 50 miles are above 10000 ft. presents its own challenge.
The best part was that after parting at the start Christy managed to arrive at the first aid station right behind me, and we proceeded through the day together. With no other friends around, on a course that was unknown to us and temperatures that even at 10,000 feet were supposed to get near 80F, we had each other to pull through the day. We arrived at the 25 mile turnaround about 4.5 hours into it and began our return to Leadville.
After 7 hours we had a mere 13.5 mile to go and a goal of a sub 10 hour race came into view.  It was no gimme though, and with the next 3.5 miles heading uphill into Iowa Gulch on tired legs, we both found our low point of the day. Christy, knowing we were cutting it close to the 10 hour goal told me not to wait if she slowed, and after what seemed like an eternity getting to the top of the road, I looked over my shoulder and saw her right behind me. It took us an hour to get there. Rats.
Now we had 10 miles to go and just under two hours to meet the goal. On the one hand, it was downhill. But after 40 miles you can't always barrel down the trail like you can on a normal day and that those "its all downhill from here" sections always have painful stretches of flat trail and even a few demoralizing uphills. And it was still hot as hell out.
Long story short, we both dug deep and pulled it off, I came in just seconds under 9:30, taking just about an hour to finish the last seven miles earning me 20th overall. Christy crossed the line with a smile in 9:54, 30th overall and 6th in the women's category. Averaging under 12 minute miles over the whole course, we both managed our fastest 50 miles yet.
It was a great day by all measures and we would recommend this race to others. From our point of view, the lack of driving long distances from home was quite possibly our favorite part. We were back in Aspen by 6 pm.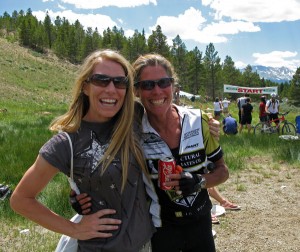 Congratulations to Aspenite Annie Gonzales (here w/ Christy) for winning the women's Silver Rush bike race the day before for the second year in a row. She pulled in just 10 seconds under the coveted 5 hour mark!
It sure would be nice to be done with something in 5 hours- maybe next month when Christy and I run Pikes Peak Marathon.