Go Christy. It's your birthday.
Actually, if you know Christy it's more like a birth-week, or even month-long celebration, a notion confirmed by the candles that came with the dessert at the restaurant last night, some six days after the actual date.
This year's birthday stretch was like most, with the days before and after the 16th pretty booked up, one of which included Christy's fourth go at the Leadville Silver Rush 50 miler. One year older, wiser and more experienced, she put together her fastest run on the high-altitude course, as well as her fastest 50 miles (this was her 9th time at the distance), finishing in 9:07 as the 4th woman overall. Considering the late hour that the party shutdown two nights prior at the Empire of the Sun show, and the following workday that went right up to bedtime on the night before the race, she's pretty happy with how it went.
Congrats to the others from Aspen who ran as well, particularly Chase Edgerton, who recently paced me at Hardrock and finished 10th place in 8:20, despite missing a turn late in the race. And also to Lissa Ballinger, who, despite never having run a race longer than the 17 mile Imogene Pass Run, finished in an impressive 9:33. Nice work.
On a related note, sometimes it's a challenge to know what to do with all the shirts, goodie-bag items and finishers awards from some of these events. You don't want to throw it all away out of concern that it might have some nostalgic value down the road, but sometimes you wonder if there can be something more purposeful for it all apart from collecting dust. Medals might convert to Christmas tree ornaments, some sew quilts and such with all the T-shirts that are offered up (I use them for the undignified job of cleaning my bike) and for Silver Rush, well, the silver finisher bracelets Christy has collected but would never wear, now allow us to seat a full table of four for dinner.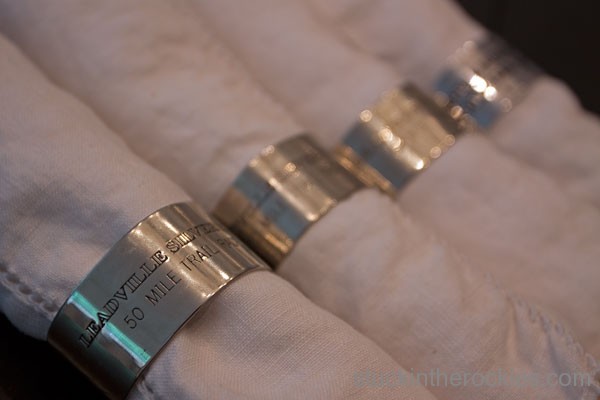 Christy, just four more years and we can have a complete set of eight.