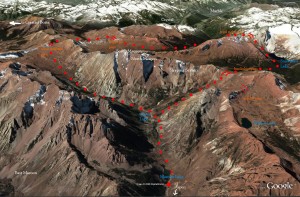 This connection of trails that circumnavigates the Maroon Bells crests four passes greater than 12,000 feet and resides entirely within the Maroon Bells/Snowmass Wilderness. It's one of those reminders as to why we live here.
Completed in either the clockwise or counterclockwise direction, its reported distance and elevation gain varies a bit depending on who you ask and where you start but definitely qualifies as a must-do.  Outings can commence from near Aspen, Crested Butte or the Marble/Crystal area, as well as some more obscure locales.  If starting from Aspen(as illustrated here), the trip usually begins at Maroon Lake, elevation 9600 ft., and results in a cumulative elevation gain near 8000 vertical feet over an estimated 25-27 miles. The elevation chart is drawn for the counter clockwise direction(Buckskin first). Click all images to enlarge.

Most often completed as a multiday backpacking loop, if you choose to take your time or add a 14er climb to the itinerary you could spend the better part of a week out here. If you are like us and are short on vacation days and long on energy you can try this as a trail run. For Christy and I it's our absolute favorite.
Which approach is actually better? We don't know. Through the years we have made an interesting observation though. As we barrel down the trails past backpackers hauling huge packs we often comment on how tough it must be to carry all that weight. We'd rather carry less and go faster. And at that same moment the backpackers comment to us on how tough it must be to be cover the miles and cross the passes in a single days push. They'd rather carry more and take their time.  In sum, either way you have your work cut out for you.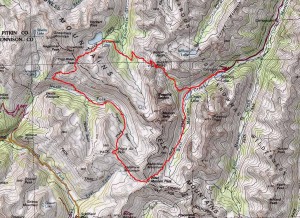 This past weekend I hit the loop twice, once with Todd Clark and Richard Betts and a second time with Christy, both trips in the counter clockwise direction and done before work that night. Uggh.
Work aside, it was great to get out there. As an added bonus we twice managed to spot some local wildlife, first encountering a group of mountain goats near the top of Buckskin Pass and later finding Jann Stoeckl scouting for elk near his usual 'secret' spot. That was a rare animal sighting for sure. Bow hunting season must be right around the corner.
What's a fast time? Last summer Zeke Tiernan closed the loop in around 5 hours and while I don't know of any unofficial records being kept I think anything under 7 hours is moving at a pretty good clip. Just a reminder, I don't consider myself to be in the 'superfast' category. Besides, if you go too fast you might not actually see where you've been.
Finishing in 7:45, Christy was psyched as this would be her fastest time to date and served as our final long run before the Wasatch Front 100 miler.  Is it really next weekend? Uh oh.