Just getting caught up here on the backlogged trips thus far- this was a great one we had on Sunday, April 26.
Forgoing what was the 4th 'official' ski area closing day(after all the season extensions), a rather large group of us tested the limitations of modern snowmobiles and headed up the Maroon Creek Road to ski Willow Peak. John Doyle and Kirk sacrificed the machines to get Pierre and Andre Wille, Sean, Christy, Pete Stouffer and myself up the 7 mile road to be part of the day. Doyles' sled rode two and towed three and with some minor smoke and gurgling made it all the way up. Eight people on two sleds might be a record for me.
Once at the lake and with the group consisting of pretty hardened local toughguys, the usual uphill charge began and while no one ever acknowledged an official 'race' start everyone was taking note of who finished when. This was all as expected, Christy and I brought up the rear.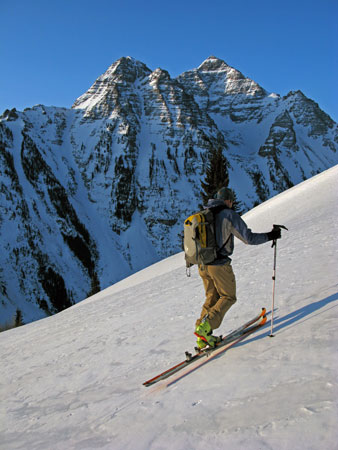 Pyramid Peak serves as backdrop for Pierre Wille
At one point some indecision about the best route to Willow Peak resulted in the eight of us splitting into two groups of four, everyone feeling they knew the fastest route. In the end the two groups ended up meeting part way up Willows' steep south face and no winner could be declared.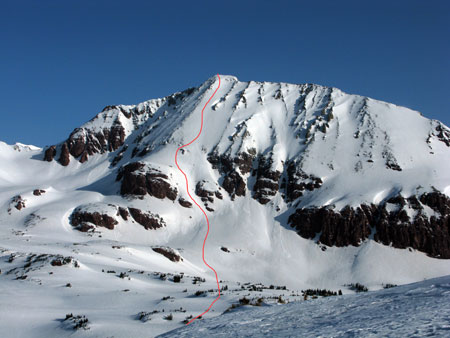 Once on top the eight of us took our time eating lunch, pulling skins and taking it all in. Willow Peak has some awesome views of the Elk Range, from perspectives seldom seen. We had a short while before the sun warmed up the snow and with no wind and the spring weather having been totally absent from the season thus far, we all knew we should just enjoy it up there. For Christy and I this was our first day skiing backcountry with a lot of these guys and it was cool to finally get out with them.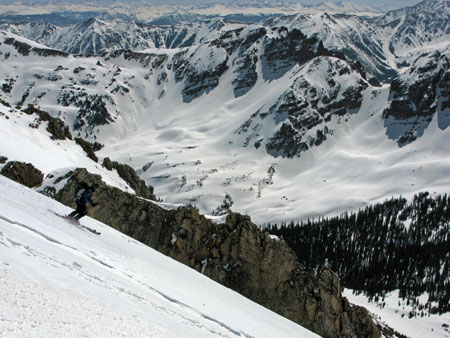 The date said late April but this was one of the first 'spring' condition days any of us had encountered. The further we skied the more it softened and with a cool steep finish to the run, we were all psyched for the day as we put our skins back on to head back towards the sleds. We would have to skin past(over)Willow Lake and up to a small ridge to get a second shot of spring all the way down to Maroon Lake and the snowmobiles.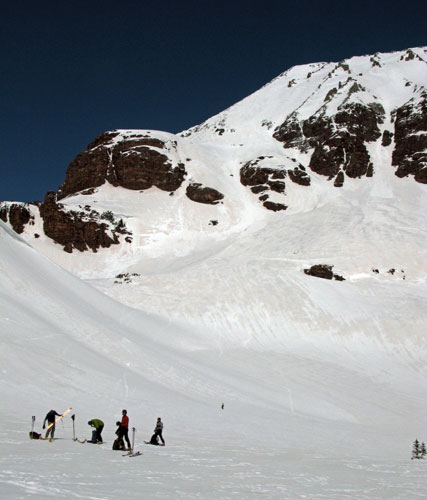 We found great corn snow all the way down, just perfect. Later at the trailhead some celebratory beers were put back as other backcountry groups filed through from different locales up in the Maroon Creek Valley. It was a busy day up there and for good reason. Later, some of us moved down the road a mile to catch the end of the closing day party(the real one) at Aspen Highlands.
Thanks for the tow Doyle!