Gettin' Ready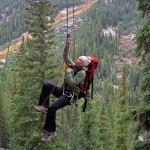 With our depature for Nepal on Wednesday, we had time for a little last minute trip prep. Our planned route on Ama Dablam is the SW Ridge. As a true hand and foot climbing route, it won't have any significant "jug hauling", that is, pulling ourselves up a fixed rope with mechanical ascenders, or jumars. For safety reasons though, we will be clipped in and using an ascender, while on a fixed line, so we thought it was a good idea to get some practice "jugging". The sequence of moves when practiced in the vertical realm, transfers well to the alpine realm, where we'll be. It's fun, too. Christy and I went up on the pass over the weekend and found a good overhang on the Lower Bulldog wall to rig some ropes where we could practice.
I can see Russia from here!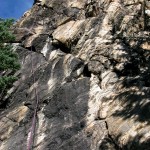 Two days earlier, and right around the corner, I helped Neal Beidleman finish his new route on the north face of Turkey Rock. The mixed route has 3 bolts, requires 5 pieces(mostly small cams) and according to Neal, is rated 5.11b. The photo shows Neal at the anchor(chains) after successfully leading the route. I made my way to the top in slightly less impressive style, on top rope and having taken several falls.
Next came the important part, naming the route. With all of the neighboring routes on the rock being plays on the "turkey" concept, i.e. Smoked Turkey, Wild Turkey and Right Wing, we thought maybe we should do something different. I think it should be called "I can see Russia from here!"
Later that night we watched the vice presidential debates.