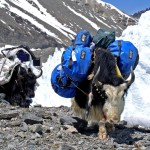 Actually, the yaks aren't loaded up yet, but they willl be soon. That shot is from Everest back in 2003. I just thought it was fitting for the moment.
Christy and I pulled into Kathmandu last night and met up with Dirk. Tomorrow we fly to Lukla and begin the trek in to basecamp. Total time is just over a month to the mountain and back, and the schedule is stacked.  Check out the more detailed trip-itinerary.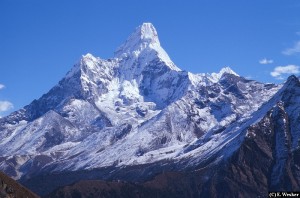 Ama Dablam, 22,525 feet. One look at this mountain and you can see why we're psyched.
Because the blog capabilities are limited on the mountain I will post a link to Adrians' website and his trip updates as soon as I can.
Namaste.