Checking In – Namche Bazaar
After flying to Lukla yesterday, and trekking in to Phakding where we spent the night, we made the trip to Namche Bazaar today. Namche, at more than 11,000 feet, is the largest village in the Khumbu Valley. The rest of today and tomorrow will be spent checking it out.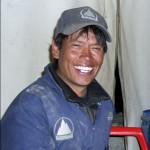 So far, everything is great. As an added bonus, Adrian has many of the same staff Russell Brice employed when I was on Everest with him in 2003. One of the guys, Lachu, is our cook and basecamp manager, as he was back in '03. Having worked for Brice for 14 years now, the Khumbu local has been on 42 expeditions, mostly to 8000 meter peaks, running the show(and the kitchen) at the base of the mountain.  As testimony to his food, Christy gave him and the lunch we just had a two thumbs up(and she had seconds). I don't know if there's a more glowing review a Nepali cook can get.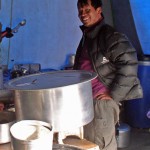 Measuring a few inches less than five feet tall, he may not have a commanding physical presence but he get some serious respect around here. That's good, because when you consider he has to keep track of 12 climbers and all our gear(and there's a lot), spread out throught he Khumbu Valley with different teams of porters and yaks, arrange all tea house lodging all while making sure breakfast, lunch and dinner are ready, it isn't easy. With the help of the sherpa team of which we have six(more on that later), Lachu and the guys are the ones that make the whole thing happen. Having seen the organization on Everest, and knowing many of the same guys are here with us now, is pretty encouraging. (pics are from 2003)
namaste