With six weeks to go before the Grand Traverse, team Lucky No. 9, a.k.a Christy and I, went out to log some miles, skiing a classic interconnect between the two founding huts of the 10th Mountain Hut System, Margy's and McNamara.
Starting at the Lenado trailhead (8640 ft.), we made our way to McNamara Hut (10,360 ft.), via a linkup of the Tincup Trail to Four Corners to the Van Horn Park Trail. Grabbing a quick snack at the hut, and after nearly being taken out by some novice skiers descending from the hut, we began the seven mile stretch towards Margy's, traversing to, and then descending Woody Creek, to near its confluence with Spruce Creek. Find the turn off to the Spruce Creek Trail, marked with the sign above, and follow the on-again-off-again trail(NE) upstream to Sawmill Park at 11,000 feet. The next leg of the trail, marked with another sign, takes a hard left(W) from near the top of Sawmill Park, and will take you on a traverse for about a mile and a half to the hut, at 11,300 ft. From the hut, it's about 6.5 miles and a 2700 vertical foot descent down to the Lenado Trailhead and the truck, where our day began about  20 miles and 7 1/2 hours earlier.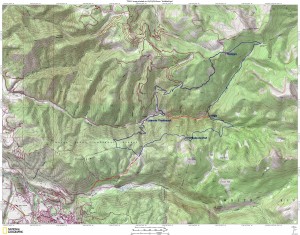 The route is marked on the map in blue (click to enlarge). Be sure to get a real map before you go or you might find yourself lost and having to crash someone else's hut trip for the night.
As a variation, marked in red on the map, you can also remove the 45 minute drive from Aspen to Lenado and start at the Hunter Creek trailhead, which will add some miles to the day, but can be offset by descending Woody Creek all the way to the Lenado Trailhead, passing the Spruce Creek turnoff, continuing west, eliminating the Margy's section of the loop.