Much to some locals' dismay, the regular season in Aspen wrapped up last Sunday. If you ask me, it's a blessing in disguise because like most sports, it's the post season where things get exciting. For many, work stops until the tourists return for summer, the area snowpack is usually at it's annual peak and the beautiful spring weather morphs the snow into its safer, predictable, spring variety. If the big peaks come into ski condition at all it's in the spring and after the busy months of February and March where many are in work overdrive, April and May finally brings a break to do your own thing. It's easy: lots of snow + lots of free time + lots of good weather = loads of spring fun. It's postseason May Madness.
There could be one problem though. The dust.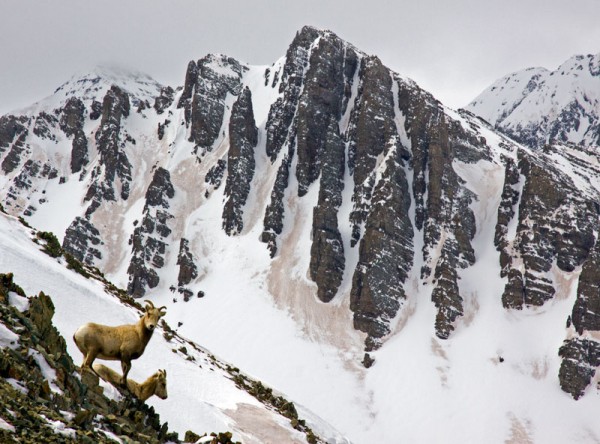 Sometimes if the right conditions exist, storms blowing in can pick up some sand and dust from the desert west and when it arrives to the mountains, it can be deposited with the snow (or rain). Apart from the obvious unsightliness, it can be buried and become a bad layer in the snowpack, more likely to avalanche in the future. Worse yet, when the spring sunny weather ultimately arrives the less reflective brown will collect heat and result in a more rapid melt of the snowpack. That's bad news for everyone from farmers to rafters and from a skiers perspective it isn't good either as it will end the spring season much sooner than usual. I suppose the owners of the car wash don't mind it too much.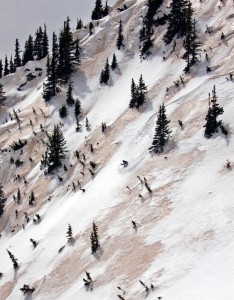 In the years I've been around I can recall quite a few seasons when a dust event occurred, though it always seemed to be an isolated incident, from a single storm. The opinion of those who measure this sort of thing is that this season is much worse than years past mostly because as many as six dust layers can been observed in the snow right now.
These pictures were all taken yesterday from a particularly hard hit area near town (click all to enlarge). The contrast between the brown and the white may be interesting as a photo but from the skiers perspective isn't that great.
For some more on the dust, click here for a recent story on NPR.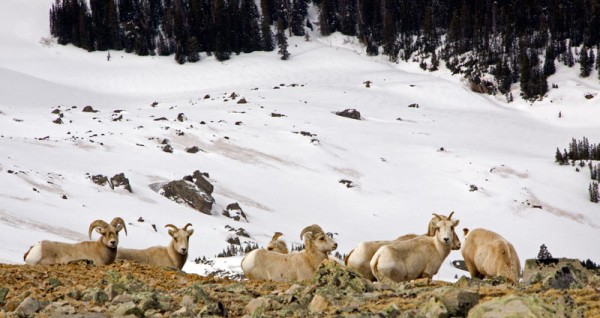 I guess we'll just wait and see how this postseason pans out but for now it's not looking good. We don't like seeing brown. Unless of course it's a bighorn sheep. They're cool and can stay brown and hang out as long as they like.