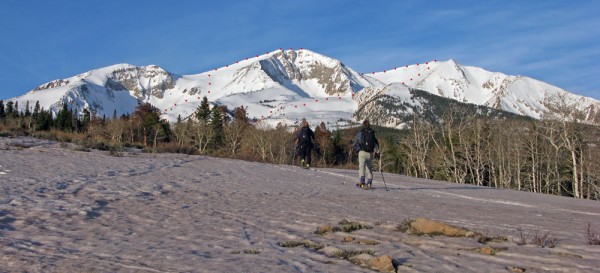 Amos Whiting, Dirk and I headed to Mount Sopris on Friday. Our initial plan was to ski the Crystal Chute, the 6000 foot couloir that descends towards Carbondale, a line that has been on all of our 'ticklists' for some time. After shuttling a car to the couloirs exit, or at least where we believed it to be, we drove towards the Dinkle Lake trailhead and made our way up the standard route, passing Thomas Lakes en route to the East Sopris summit (center in photo, click to enlarge), at 12,953 feet. Check out the brown snow down low.
From there we descended to the saddle between the twin 12,953 foot summits and ducked off the ridge on it's leeward side and called lunch.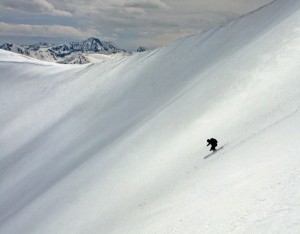 Out of the wind, which was pretty bad up high, we hung out for a while in hopes that the sun would begin to soften the west facing snow we planned to ski. After lunch and a little nap, an hour had passed so we made our way towards the top of the Crystal. Unfortunately, the efforts of the sun were hampered by increasing clouds and the snow was still all frozen up. The cooling winds didn't help our cause much either. And after gazing down the west side and noting the snow dried up pretty high and we would likely be walking on dry ground for three thousand vertical feet, we called a quick little meeting and changed our plans.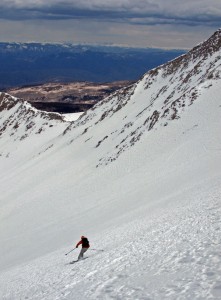 By heading back towards where we started, at least we could get out with minimal walking, and the east aspect off the West Sopris summit was more favorable for warming so hopefully it would be good to ski. We dropped in and found that not to be the case (thank you wind) and skied frozen, slightly breakable snow down towards Nettle Creek. Thankfully the snow conditions improved as we got lower, pictured left is Amos, before he traverses to a small saddle (right) that put us just below the steep Laundry Chutes. Pausing for a few minutes to gaze up at the couloirs, we discussed the accident here that killed Lathrop Strang almost a year ago to the day. After acknowledging what a tragedy that was and how many are still coping with it, our petty gripes with the wind and snow conditions disappeared. We were happy to have safely done this little 'Tour de Sopris,' a first for the three of us.  The Crystal can wait.