As we topped out on Kit Carson's summit last week, the ordinarily awesome view to the east looked even more impressive than usual. Across the valley, the Crestone Peak North Couloir had collected a good amount of snow and, at first glance, appeared to be in skiable condition. When gazing upon this route in the past it has always appeared too rocky and lean to be safe, much less fun. Others agree, including Lou Dawson who wrote in his book,"if this couloir ever filled up with snow it could be a classic…." So I decided I should give the photos a closer look when I get home.

And no sooner was I in front of my computer the following day, ready to do just that when an email appeared from Frank Konsella, from over in Crested Butte. And guess what? He had seen the couloir on 14ers.com, from a trip report our friends from the KC day had posted that same day, and was curious if I was interested in checking it out, up close and on skis.
Frank and I met back in 2000 when our spring skiing road trips crossed paths in the Bishop area of the Eastern Sierras. Since then we had loosely followed each others exploits through various online ski news sites and forums and in 2008 we both finished skiing the Colorado Fourteeners. Because of that last bit it should make sense why as partners we're a good match and so I got right back to him and we made plans for the weekend.
After meeting up on the road to South Colony Lakes, Frank and his friend from CB, Josh, started up the 4+ miles to the roads end, the two of them on snowmobile as I skinned. The road in any season is a challenge, and though I was slower it crossed my mind that it may have been harder on the sled, in a different way. The creek crossing alone was enough to leave me feeling happy to be walking. Pictures on that later.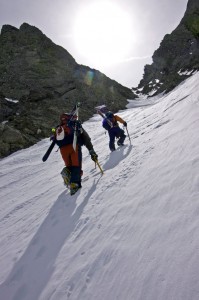 I absolutely love visiting the Crestones, they have a unique feel and the following morning was no exception. We skinned up and over the frozen South Colony Lakes, past the Crestone Needles' Ellingwood Arete and up onto the 'Bears Playground' enroute to the couloir. That approach and resulting vantage point of the Crestones made the slow haul in the day before worthwhile. And there was still more to come.
After a straightforward traverse to the base of the North Couloir we put on our crampons and started booting. About a thousand vertical feet later we were picking our way through an unskiable technical 'pinch' below the col, near the top of the couloir. Until that point the couloir was skiable and while the pictures showed this top section to be too tight, we held out hope that they weren't revealing everything, and that maybe there was a way through. There wasn't. So even though the coverage seemed well above average, it still wasn't enough to allow a complete descent. And to the three of us it really didn't matter.
After a quick hike to tag the 14,294 foot summit we were back at the col and ready to climb down into the couloir. Thankfully, and I say that only because it didn't happen earlier and end my day short, the toe bail on my crampon broke as I down climbed and I had the thing dangling from around my ankle. To get through the narrow, icy stretch I found myself in, I called for the rope from Josh, tied in and kept going down. Moving out of the way of any ice and rockfall, I dug out a platform that allowed me to put my skis on, and I waited on my precarious perch as Frank and Josh followed.
It took a while but eventually the three of us were down, ready to ski. And lucky for us, the steep north exposure had kept the snow dry and carveable, something everyone likes when starting down a steep line that ends in a cliff.
Once at the bottom of the couloir we made a short traverse to avoid the cliffs below and continue the ski down to the base of the Bears Playground. A quick skin put us back up atop the cirque above South Colony Lakes where we each chose our own couloir to ski. The short descent from there under the backdrop of the Crestones was awesome.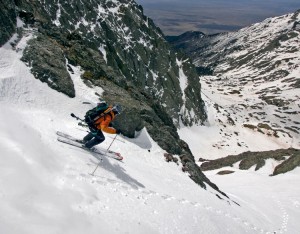 Lou, in his book, also describes this as "an ugly ski route." I think it's all in the day. If I can put some broken gear issues aside, I think the only ugly situation that could have come up but thankfully didn't, had to do with getting out on the snowmobiles later that day. But even that turned out alright.
And CAMP got back to me immediately and there's a new toe bail for my crampon on the way.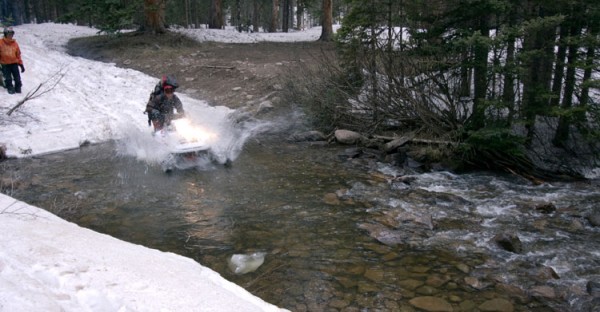 And if anyone is around Boulder tonight,come by Neptune Mountaineering at 8pm for a slideshow I'm presenting on the Ama Dablam trip. See you there.