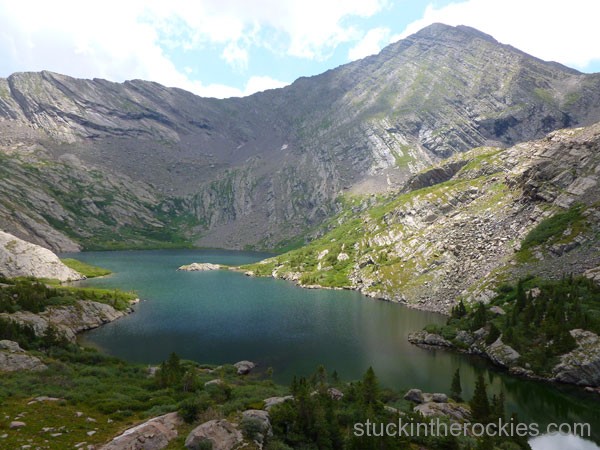 It's pretty chaotic around Aspen these days, and since the typically quiet trails are teeming with summer visitors, we decided to head back to where we always find solitude, the Sangres. A quick look at our favorite map of the area pointed us in the direction of North Crestone Lake. It's a couple of valleys north of the ever-popular Willow Lake and just south of some of our more recent romps around Rito Alto and Cotton Creek.
After filling the first half of summer with more than our share of trail runs and light-and-fast travel, we opted to backpack in for the night. A six mile hike took us to the lake 11,780 feet, just below the centennial peak, Mount Adams.
Without a person in sight, we ditched the heavy packs and made a quick hike up to Fluted Peak, 13,554 ft. and a neighboring unnamed 13er, known only as UN13,419. From the summits we could see our goal to the north for the following day– a loop hike up Comanche Creek, over the summits of three ranked 13ers, and then back down the Venable Pass Trail to where we started, at a trail junction called Three Forks.
The following morning, we packed up, and made our way back down the North Crestone Lake Trail, to the Three Forks junction. We hung our packs and food, and grabbed what we needed for the loop and started up. The trail took us up to Comanche Pass, and an easy hike put us on Comanche Peak, 13,277 ft. From there, we descended back to the pass and continued north, to Spring Mountain, 13,244 ft., and then Venable Peak, 13,334 ft. We descended game trails to the Venable Pass Trail, which then took us all the way back down to Three Forks.
Add this loop to your to-do list. It was ten miles start-to-finish, and took about 6 hours. The photos help somewhat with the details-