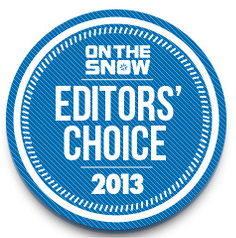 The results are in from the OnTheSnow.com ski test.
Over a few days last March, I was one of 13 lucky people tasked with evaluating next year's skis for the website's annual review.
I say lucky because I think it's a really cool opportunity to tryout the new gear, but it wasn't without it's challenges. There were 60 different skis that needed reviewing in just three days time, so it was more like a NASCAR event with pit stop ski exchanges than a casual day on new gear. We would start at 8am and go continuously to last chair at 4pm or so, filling out review cards on the chairlift, without even taking a break for things like lunch. It was really fun.
As I mentioned in a earlier post, the skis were scored on versatility, carving, playfulness, stability, and float/powder. Detailed comments on their performance in these five categories were also required, as were overall impressions. After a summer to pore over all the reviews, the website boiled it down to an "Editor's Choice" lists for the three ski categories: Powder, All Mountain, and Frontside (for both men and women). The Editor's Choice selections are here.
To see how all the skis fared, the complete list of the reviews are here.
What I liked most about this test was that the objectivity of the group resulted in more honest scores. We weren't being paid by the ski companies or getting free gear, so we had no reason to polish up any duds and just called it like we saw it. Some of the skis averaged between one or two on a scale of five, something you won't see on Wild Snow or Powder, where paid endorsements guarantee high scores for everyone. Good skis were rewarded with high scores, but skis that didn't cut it were dealt with sometimes harshly.
That said, most of the skis I tried were really good. I've had my skis for next season picked out for a while, but I'd be happy with most of those I tried. Thanks to OnTheSnow.com for putting it all together.