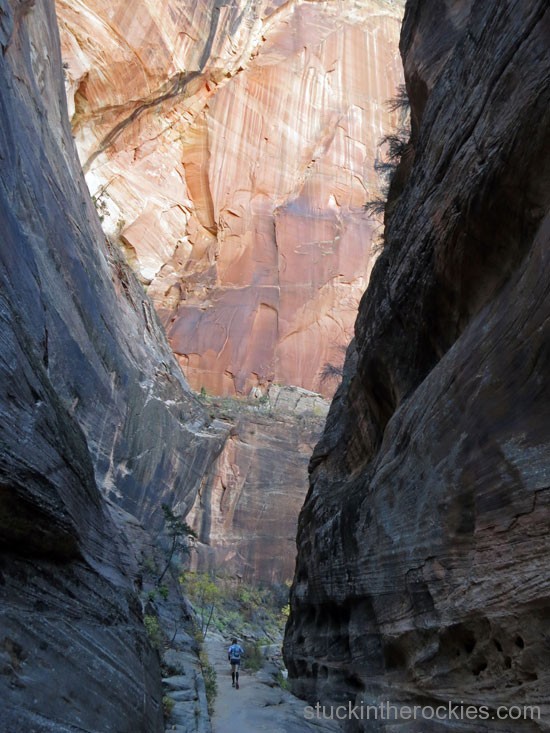 We ran the Zion Traverse last week– a linkup of existing trails across Zion National Park that measures about 48 miles and reportedly gains around 10,000 vertical feet. Christy and I are big fans of established courses such as the Grand Canyon Rim-to-Rim (or roundtrip) and the Four Pass Loop, so it was time to check out this increasingly popular route.
The course essentially runs diagonally across Zion N.P., and can be done in either direction. After doing a little research online (Andrew Skurka's site has the best breakdown of it), we opted to start at the East Rim Trailhead and head northwest to Lee Pass. There are pros and cons to going in either direction and we based our decision largely on the elevation profile, we opted to take on the biggest descent/climb of the route early rather than late in the day.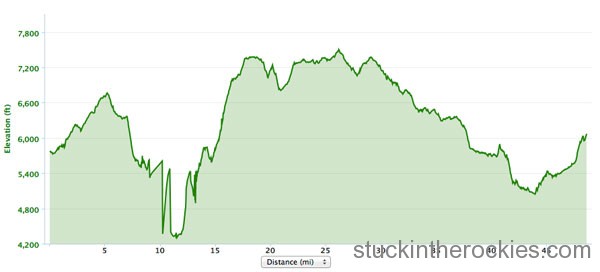 Overall direction isn't the only decision to make, there are also some options concerning water and the shuttle needed to complete this point-to-point course. Since it was just Christy and I, available custom van shuttles were a bit expensive and ate up too much time in the early morning. We opted to rent a car from nearby St. George, and shuttle it to the finish at Lee Pass the afternoon before. We left food and clothes in it for the 45 minute drive back to our hotel in Springdale after finishing the run.
We then drove up the Kolob Reservoir Road, and left water and some critter-free food (gels etc.) at both the Lava Point (West Rim Trailhead) and Hop Valley Trailhead — around mile 25 and 34, respectively. We could have also left a cache at the Grottos Trailhead (around mile 12) on the main scenic drive, but opted against it and just planned to fill up our bladders from the spigots there. During most of the year you can fill up and purify from springs along the route. Being November, many were dry or barely flowing.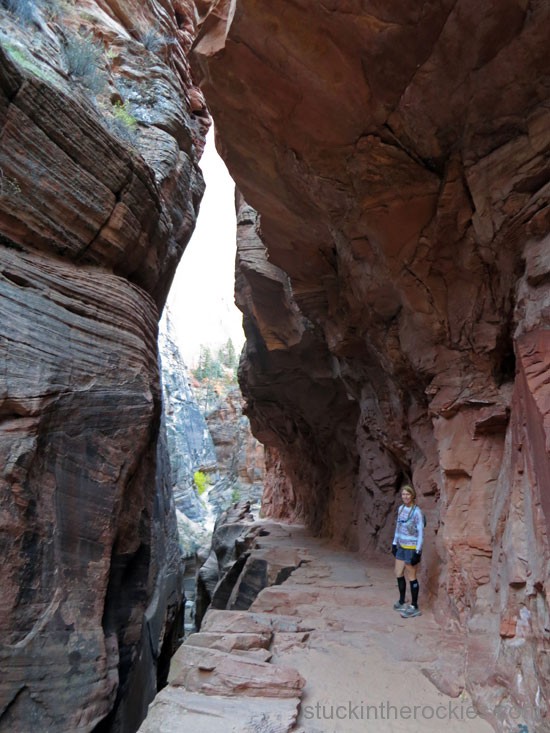 We drove to the East Rim Trailhead in the morning and started, making sure we had keys to both cars and the hotel. Eleven miles later we had descended the Weeping Rock Trail to the Grottos, where we filled up with water. From the Grottos we started up the West Rim Trail, passing Angel's Landing, and followed it for 14 miles to Lava Point where we left water the day before. The Wildcat Trail took us nine miles further to the Hop Valley Trailhead, where we filled up one last time for the final 13 miles to the shuttled car at Lee Pass. We made it to the finish just as it got dark.
It's an incredible way to see the park in a single, intense outing. I can see doing this one again.